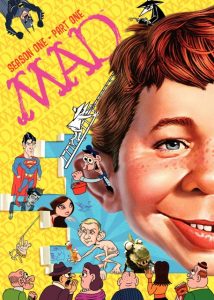 MAD magazine was one of the highlights of my childhood trips to the corner store. My brother and I would get our copy and then head to our rooms for hours of laughs. This DVD (and the episodes on Cartoon Networks) are just as Zany and funny as the magazine. When the DVD arrived my son could not wait to rip it open and start watching.

The outlandish humor and brilliant pop culture parodies of MAD Magazine are celebrated in MAD, the new animated sketch-comedy series to be released on DVD September 20, 2011, by Warner Home Video (WHV). Titled MAD Season 1 Part 1, this hilarious DVD release will feature 13 outrageous episodes that poke fun at everything from superheroes and popular celebrities to history and classic television shows, and much more. The DVD will retail for $19.97 SRP.
MAD premiered on the Cartoon Network in September 2010. The show ranks #1 with boys ages 6-11 and boys ages 12-17 in its time period.

MAD Season 1 Part 1 Featured Episodes:

Avaturd/CSiCarly

TransBoreMores/Groan Wars

2012 Dalmatians/Grey's In Anime

Star Blecch/Uglee

Pirates of the Neverland: At Wits End/Batman Family Feud

Wall-E-Nator/Extreme Renovation: House Edition-Superman's Fortress of Solitude

Clifford-field/ Big Time Rushmore

Fantastic Megan Fox/MAD vs. Wild

I Love You, Iron Man/Ben 10 Franklin

Class of the Titans/Zeke and Lex Luthor

S'UP/Mouse M.D.

Da Grinchy Code/DUCK

Snot Pilgrim vs. the Wonderful World of Disney/Malcolm in the Middle Earth
Get out and get your copy on Tuesday September 20th!
 



I received a copy of this DVD to facilitate my review.  Opinions expressed within are my own.
0