Mastrad sent me a TopChips microwave chip maker to review.  I know what you are thinking, a microwave can not make crispy chips.  I thought the same until I sliced up a potato using the mandolin slicer that comes with the kit and popped the chip maker in the microwave.  Seriously, 3 minutes later I had crispy and delicious potato chips.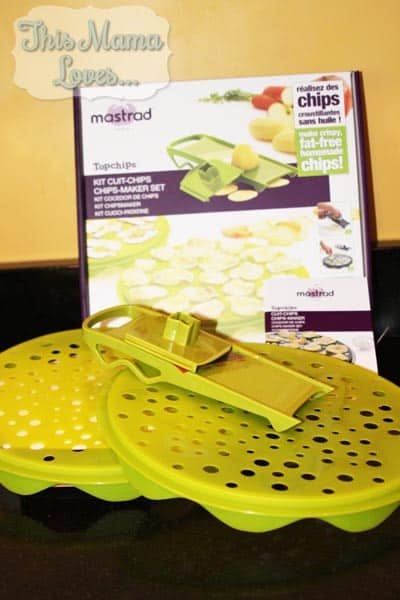 Description
 With Mastrad Topchips chip maker, make your own homemade, fat-free, oil-free, and guilt free crispy fruit and vegetable chips in just 3 to 5 minutes!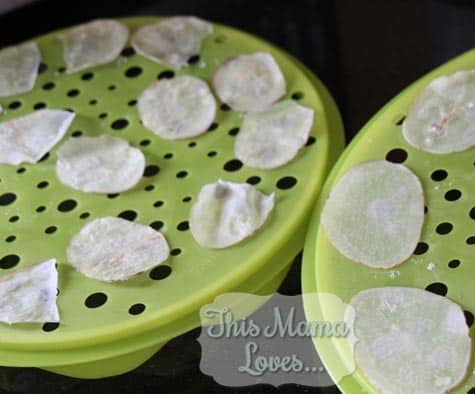 – Mastrad's TopChips chips maker with mandolin set comes with Two chips maker tray and one mandolin slicer to make the perfect thickness chips.
– Make healthy chips by using potatoes, carrots, sweet potatoes, apples and pears. Cooking chart included. For microwave use only.
– Tray diameter is 11″
– TopChips chips maker trays are stackable up to 3 high to make chips for the whole family
– Trays are made of non-stick FDA silicone
– Can be used with potatoes, carrots, beetroot, and fruit.
– For microwave cooking only
– Cooking instructions included
– Dishwasher safe
My zucchinis are just starting to grow in the garden so I will be making zucchini chips and I am going to try sweet potato chips.  I also want to make some plantain chips.  This is a great way to make quick, healthy and tasty after school snacks for the kids.  It is definitely a kitchen gadget that will stay handy and be used often.
TopChips can be purchased online through Mastrad.com, Amazon, Bed Bath and Beyond for $29.99 and comes in four colors; purple, green, red, and charcoal.
Two readers will each win a Mastrad TopChips chip maker!  
I was provided with the product to facilitate this review.  All opinions are my own.
0