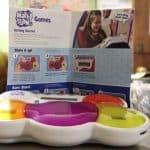 Math Slam from Educational Insights is a handheld electronic math game that offers kids a way to practice math skills at their own pace, at their own time and in a really fun way. 
Read the question, scan the possible answers, and slam the one that's correct! Better move quickly, though, each game of 10 questions is timed— the faster you get through the questions, the better your score! Incorrect responses are recycled until they are correctly answered. Three levels, flashing lights, and fun sound effects keep players interested.
Large, clear LCD for displaying questions
Possible answers presented on bright, clear LED displays
Fun, encouraging audio
4 levels
Pass around play involves multiple students
Timed action
5 different math games! -Slam it up – number order
-Sum Slam – addition
-Subtraction Slam – subtraction
-Mystery Number – algebraic addition
-Triple Slam – triple addition and subtraction
One feature I like is that the possible answers are displayed- I think it kind of gives the kids who might not have confidence in their answers a bit more of a 'boost' if they think they know an answer and see that as a possibility.  Math stuff can be really stressful for kids and fun learning tools like this might make a big difference in a child's math confidence!
I will tell you to be sure that the volume is turned DOWN before you turn this on.  Ours was not and oh goodness, it was turned all the way UP.  I think the neighbors across the street heard the game until I found the volume adjustment!!  So far my daughter hasn't yet discovered that there is a volume adjust at all, so maybe I'm in the clear. 
This game is recommended for ages 6-11 and as my daughter only just turned 6 I can see her being able to play this game for several years!! 
One of my readers will win Math Slam! This is a Rafflecopter giveaway so unless specified IN the Rafflecopter form, comments on this post won't be counted as your entries.  Good luck!



I received a sample of this product to facilitate my review.  Opinions expressed with in are my own.
0