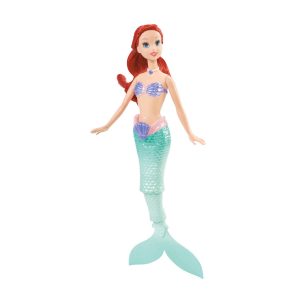 Pool or tub, water toys are a blast for little ones (and their adults, often times.  Mattel sent us  Disney Princess Swimming Ariel – Water play is a splash away with the Disney Princess Swimming Ariel!  Turn the seashell at Ariel's waist and then place her into the water to see her really swim.  Watch as her tail moves up and down to swim through the water just like in The Little Mermaid.
I LOVE this little Ariel.  Of course, she's kind of my favorite princess and so that probably helps but I just love that she really does swim.  The kids get a kick out of watching her swim- although they decided from day one that Ariel needs to live in the bathtub and not go in the pool so that's where she lives.  The shell at her waist is pretty easy to maneuver and turn to get her wound up to swim and she does move through the water by moving her tail up and down-  which honestly delights my kids every time.  We love new tub toys and are glad to add another Ariel to our lineup (we have one that her tail lights up with fish and stuff, but she doesn't swim, so this new doll is getting far more bubble time!!)
We also recieved Disney Princess Ariel & Sisters – For the first time in Mattel's Disney Princess line, girls can play out their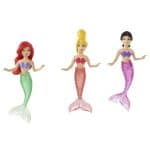 mermaid adventures with Ariel and her two sisters, Alana and Arista! All three dolls have magical tops that change color when dipped in water and playful swivel hips that mimic mermaid-like movements.
My littlest one has claimed these little dolls for her own.   She actually shrieked in delight when she spotted them as her princess babies and grabbed her sister's little mini metal lunchbox for a bed for her princess babies.  No one else can touch them (except when she's sleeping, like in the video below).  She LOVES these.  They keep her happy in church and pretty much everywhere we go- the fun colors and the "moving" hips are fun for her, plus the small size is just right for her little hands.  When you put these little dolls into ice water (or hot water) their tops change colors- it does take a minute to change the colors but it really works- and very noticeably.  (We've had disappointing toys before that promise to change colors and at best you see a slight difference- this is NOT the case). 

One of my readers will win the Swimming Ariel Doll along with Ariel and Her Sisters!



I received a sample of this product to facilitate my review.  Opinions are my own.
0