Mattel
's NEW
Frankie Stein
doll from 
Monster High
is  priced at  $4.13 to celebrate
Friday the 13th
!  To celebrate, I've been asked to host a giveaway for three of my readers to win some spook-tacular prizes.
Spooktacular Friday-the-13th Monster High favorite, Frankie Stein here to thrill you!

Get the latest edition to the Monster High dolls collection at Walmart for the scary low price of just $4.13.

Frankie's getting a spooky makeover just for Friday the 13th, and you can get your claws err…hands, on her on April 1 at Walmart for the unbelievable price of just $4.13! This leaves just enough time to plan a spooky night of fun with daughters, friends, or family on the spookiest day of all, Friday April 13. While you're at it, check out the freakishly amazing 17-piece Monster High plaid accessories trunk, shipping for just $.97.

Be the ghoulish hostess with the mostess this Friday the 13th by throwing a Monster High slumber party with the newly styled Frankie Stein. Download a special party kit with everything you need to make your fright night a fun one! It's sure to make your spooky night a night of fun with invitations, cootie catchers, recipes, and much more!

Who's Frankie Stein, you say?

Frankie Stein, the daughter of Frankenstein's monster and his bride, is the new ghoul at the school Monster High, having only been alive for 15 days. She's friendly and athletic, never wasting time being negative, but has a clumsy streak, as her body parts tend to fly off. She is also very naive; due to her very young age, she doesn't know much about life and the typical ups and downs of teenage life.

Random Fact brought to you by Monster High: There are 4 Friday the 13ths this Leap Year!
Monster High has put together an awesome FREE printable Slumber Party Kit! (you can also click the image below)
For this reason, I would like the questions to be any of the following for method of entry:
What do you think about the new Frankie Stein doll? Share your opinion!
What's your favorite activity on the Monster High PDF Party Kit?
Are you planning on getting a new Frankie Stein Monster High doll at Walmart?
THREE READERS WILL WIN Monster High themed prizes: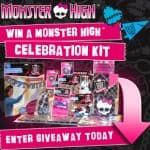 PRIZE 1: Celebration Kit:
1 Monster High shrug
1 Monster High petti skirt
1 Freaky Fashion Tie
1 Monster High Sets of lip gloss (12 pieces each)
1 Freakishly Fab sunglasses
1 Monster High "Happy Birthday" Jumbo Letter Banner Kit
1 set of of Monster High plates
1 set of Monster High beverage napkins
1 set of Monster High luncheon napkins
2 Monster High body jewelry pieces
1 pack of Monster High nail polish (12 pieces)
Set of 8 Monster High cups
1 Monster High table cloth
1 Monster High deluxe headband
4 Monster High bracelets
1 Monster High trunk set (dress up for girls!)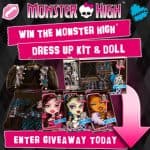 PRIZE 2: Dress Up Kit + Doll:
1 NEW Frankie Stein doll
1 Monster High shrug
1 Monster High petti skirt
3 Monster High wigs
1 Monster High Fashion Set (contains 2 leg warmers, 2 arm warmers, 1 Skulette hair brush, 1 pony-O, 1 barette, I head band, 1 hair extension, 4 hair ties, 1 Skulette hair tie)
PRIZE 3: $100 Walmart gift card
To enter simply follow instructions on the Rafflecopter form below.  Good Luck!

0