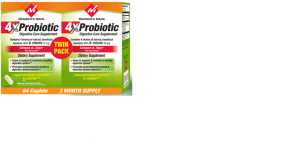 I'm trying Member's Mark 4X Probiotic supplement for the first time.  I'm really good about having probiotics for my kids, and even for our dog, Tobey, but for myself, notsomuch.  I figured it was about time for me to be a bit more proactive for myself so that I'm not just taking care of my kids and family, but also taking care of myself.  One of those pesky resolutions for 2011 that I kind of let slide by- taking care of myself…always the first thing to go out the window when life happens, I guess.
Probiotics are important to our health- and since I just can't stand the taste of yogurt, I need to do something to help ensure that there is a balance of good bacteria in my digestive tract.  Since yogurt is full of good bacteria, I would love to enjoy it and reap the benefits, but unfortunately, my taste buds stage a full out rebellion when I attempt yogurt.  SO, here I am, my Member's Mark 4x probiotics (available at Sam's Club)in hand, seeing where this goes!  I anticipate that these will work just as well as name brand counterparts, only at a lower cost, which is always something that makes me happy.  I am hoping that Mr. Bargains will be receptive to trying this product as well, because there is so much benefit to having good bacteria in our systems!
What are probiotics?Simply put, probiotics are bacteria that help maintain a healthy digestive system. Probiotics contribute to a healthy microflora and support immune system function.**

About Member´s Mark 4X Probiotic.

This product contains 4 strains of natural beneficial bacteria: Bifidobacterium infantis, Bifidobacterium lactis, Bifidobacterium longum, Bifidobacterium bifidum. When taken daily, this product will help support and maintain a healthy digestive system.**

Gastroenterologists recommend B. infantis***

Helps to support & maintain a healthy digestive system**
Promotes gastrointestinal health & digestive system balance**
There is a Twitter Party is THIS TUESDAY, August 2 at 9:00 PM EST. There will be an RSVP link added to this post for anyone interested in joining in, and I'm going to wager a guess that the hashtag for it will be #DigestiveHealth.
One of my readers will win a 3 month supply of Member's Mark 4x Probiotic!
Mandatory Entry: Leave a comment with your name and be sure to include a valid email address in the comment form!
Extra Entries:
Like Sam's Club on Facebook
Follow me on GFC, Facebook, Twitter or RSS/Email Subscription (+1 each)
Share this giveaway on any social networking site (leave URL of your post please!! hint: right click the time stamp!!) #win #probiotic #MembersMark @SamsClub 90 day supply from  @mamatomjr https://www.thismamaloves.com/?p=10730 #digestivehealth #digestive (can be done 2x day at least 1hour apart)2x/day at least 1 hour apart
This giveaway will end on August 20, 2011 at midnight, EST. US only. Winner to be chosen randomly. Winner has 48 hours to respond to my email or a new winner will be chosen.
This shop has been compensated as part of a social shopper insights study for Collective Bias. However, as always. I only provide my honest opinion for reviews.
0