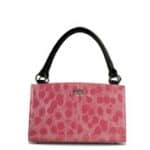 If you are anything like me  you LOVE a great new handbag.  However, after a season (or less) you get tired of the same bag day after day and are looking for a change.  It's expensive to purchase several new handbags every year and not always feasible.  When I discovered that I could get several different handbag looks without all the cost I was definitely interested.  Miche offers a great line of handbags that consist of an inner base bag and an outer shell.  The outer shell is interchangeable.  So you can easily change the entire look of your bag on a whim, without buying an entirely new bag.
The bags come in 4 different styles.  The Classic, Prima, Petite Base and Demi.  These base bag options differ in shape and size.
Once you have chosen your base the fun begins!  Each base bag comes with a large selection of shells.  Simply pick out the ones you like and they quickly fit over your base for an instant change.  No changing the contents of your bag or complicated zipping.  There is a magnetized flap at the top of the shell that just flips over the edge of your base to hold it in place.  I love that I can even change my purse from day to day to match my outfit or my mood.
I chose the Prima Base and the Lexi Shell with the Carmen charmer.  I like the larger size of this bag and the animal print shell is so cute.  The charm adds that extra touch of flair and who doesn't love a little flair?  This bag will definitely draw attention.  It is absolutely unique.  I can fit all my important stuff in there and since I have 3 small children I have a LOT of stuff!  I was really impressed with the quality of the handbag and anticipate that it will last me a really long time.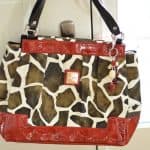 The base bags retail from $22 to $45 dollars and the shells are around $45 each.  There is definitely a higher up front cost when  you first buy your base bag and outer shell, but once you have the base all you need are the shells.  I find that $45 is a really reasonable price point and makes a great gift from the hubby should he ever need a suggestion!
The Miche website at www.michebag.com is really easy to navigate and makes ordering a snap.  Think about getting a Miche bag for yourself or for a gift.  I know what my hard to buy for mother in law is getting this Christmas and she is going to love it!
Not only does Miche offer outer shells for your bag, but they offer great charm accessories, handle options and coin purses too.  There is a great variety in the style and looks that will appeal to everyone.
One reader will win a Miche bag, shell and charm of their choice!
a Rafflecopter giveaway

"I was provided a sample of this product to facilitate my review.  All opinions expressed are my own."
0