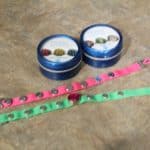 My older daughter  is obsessed with charm bracelets.  "Mom, I want a Pandora bracelet.  I'll take good care of it."  Yea, I don't think so, darlin.  You're 6. I waited 37 years to get a Pandora-style bracelet, and you are not old enough!!  Thanks to my friend Lisa, though, I discovered something that I think is going to not only satisfy my daughter's desire to have a charm bracelet, like mine, but make her even happier.  Mogo Charms for girls combine the fun of the charm bracelet and changeability of the beads with colors, sparkles, and FUN.  The Mogo Charms are made for kids- durable strapscharm bands in vibrant colors, and the magnetic charms come in cute little tins, packaged in sets of three in themes.  A bonus?  The charm bands and charm sets are affordably priced, so they make a really great gift for any occasion- for your daughter, granddaughter, niece, her friends…and you can keep adding to her collection!!
The Mogo charm bands can be more than bracelets– you can combine two for a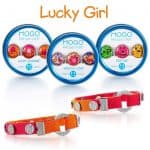 headband or three for a necklace.  That's a lot of fun accessorizing for your little fashionista- and she can create her own look with ease.  They're cute, they're fun, they're functional…and totally customizable.
The site for Mogo Charms is fun for kids.  Products are shown, of course, but there's also a Mood Watcher section, and just by clicking on images on the site there are cute graphics and (not loud) sound effects.  A spray of tiny purple hearts shoots out when you click on Mood Watcher.  A fun interactive site for  girls…and their moms too!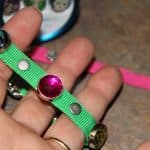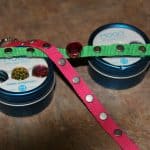 Not only do the folks at Mogo Charms make fun, durable charm bracelets and charms for girls, but they also have a heart.  They have a Furr-Ever-Friends program, a nationwide animal rescue program.
At MOGO, we are all about connections and that includes the special connection between kids and animals. That's why we created MOGO Furr-Ever-Friends, a nationwide animal rescue and support program. Through the Furr-Ever-Friends initiative, MOGO will sponsor a rescued animal every month and contribute up to $1,000 to support the health and well-being of that animal. Look for Patrick, our MOGO Furr-Ever-Friends spokesperson (and rescued Italian greyhound) who will blog about a rescued furry friend each month. MOGO and animals: we just click!
One reader will win a Mogo charmband and two charm collections!


I received a sample of this product to facilitate my review. Opinions are my own.
0