This post brought to you by Comfort and Harmony. All opinions are 100% mine.
All nursing moms know that a comfortable nursing pillow is a MUST.  I was so excited to learn about the new Mombo from Bright Starts.  This nursing pillow has some wonderful and innovative features that will make nursing more comfortable for baby and mom!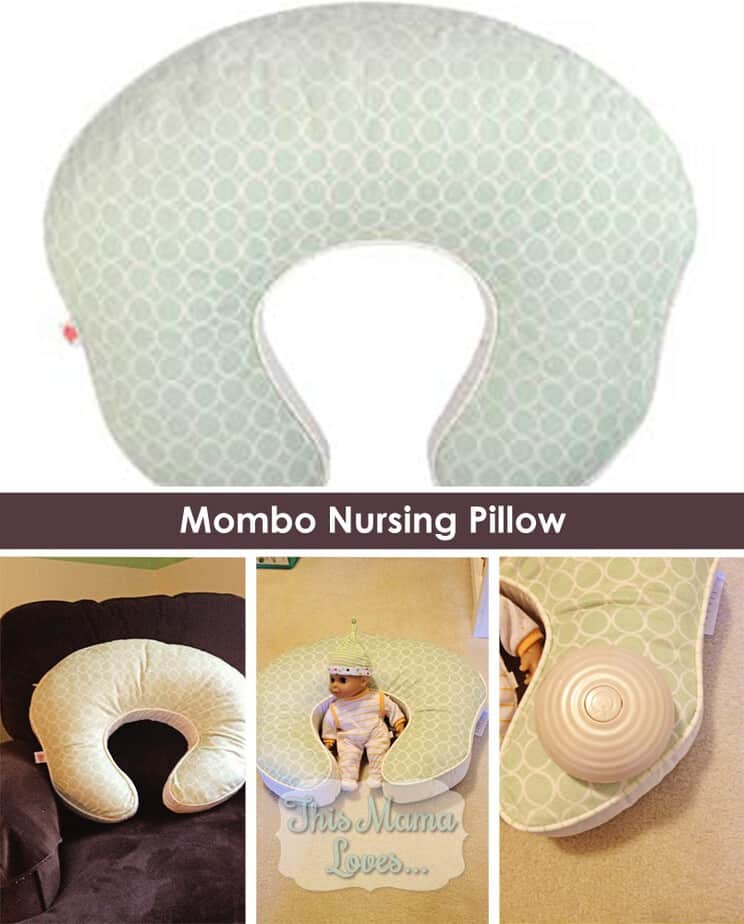 "Moms love mombo™, the nursing pillow with more to love!  Mombo has a unique shape and a two-sided design called Firm2Soft™, with each side offering a different experience.  The firm side gives essential support for mommy and her nursing baby. The soft side is extra cozy—an inviting place for lounging or tummy time.  And mombo is the only nursing pillow with a vibration feature, to give baby the ultimate soothing experience while lounging.  Look for mombo's assortment of pillow styles and slipcover fashions.  Select your style from Standard, Deluxe or Nude™.  Then choose multiple slipcover fashions so you'll always have a spare!"
I tried out the Pinehurst style mombo nursing pillow and just love the soft green design.  The firm side is great for nursing and the soft side is super soft and cozy for baby to lay on.  The vibration feature is great as well.  Simply insert the vibration unit into the zipper of the mombo and turn on for a soothing vibration.  This is great for upset tummies and for calming baby.
The shape of the Mombo is ideal for nursing and offers just enough support to make for a comfortable position.  When you aren't nursing, the reverse side of the Mombo offers a snuggly place for baby to comfortably rest and not be laying flat on their back.  The shape keeps baby feeling snuggled and secure, with and without the vibration unit.
Mombo also offers their infant nursing pillow  in a Taggies design.  This is great for entertaining little ones!  With so many slipcover options available, you can keep a spare for wash day and change the look and feel of your Mombo in seconds.  I'm due with my fourth baby in just a few months and can't wait to use this with my new little one.  I am not fully decided which of the slipcovers I will be ordering but being a veteran mom I know I'll want at least a few  extra slipcovers around!
Ready to pick up a Mombo for yourself, or another parent you know?  They are available at Toys 'R Us and/or Babies 'R Us. Be sure to follow Comfort & Harmony on Facebook and Comfort & Harmony on Twitter to stay up to date with the latest and greatest new products and deals!
One reader will win a Taggies Design Mombo Nursing Pillow!  To enter, simply follow the instructions on the form below.  
0