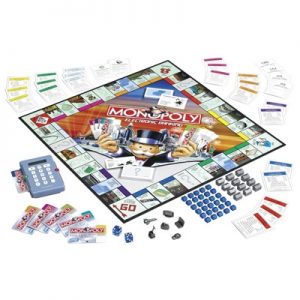 Family Game Night is something we've begun as a tradition- in part for the fun of it but also because we feel it's something that will keep us connected in just one more way, and it's something both Mr. Bargains and myself grew up doing- playing games with family.  While our kids aren't yet old enough to enjoy games like Monopoly: Electric Banking Edition, we certainly are!
It's all about flash, not cash, in this ultra-modern version of MONOPOLY. Wave goodbye to bills and say hello to your sweet new MONOPOLY bank card! Scoop up property with a swipe of plastic. Choose from a selection of cool tokens, including a Segway, flat screen TV and space shuttle. With cards, not cash, you can grab those properties faster than ever before!

Gameboard comes with title deed cards, chance and community chest cards, 6 debit cards, 2 dice, 6 tokens, 32 houses, 12 hotels and instructions. 2-6 Players. 2 "AAA" Batteries Required (not included).
One reader will win Monopoly: Electric Banking Edition!


I received a sample of this product in exchange for my post.  Opinions are my own.