I've been an avid reader my whole life.  It gives me so much joy to see all three of my kids devour books the way I always have!  Growing up, most of our books didn't turn into movies.  That's all changed, and so many childhood favorites of mine have since become miniseries or major movies. It's so much fun to see beloved childhood friends brought to life.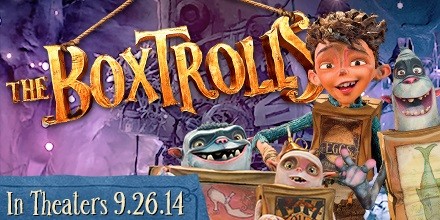 In 2014 there are many children's books coming to the big screen (or movies that are inspired by the books).  One that I haven't read, but just ordered for us to read this summer together is Here Be Monsters, will be coming to the big screen September 26 as The Boxtrolls movie! The kids and I are all excited about this!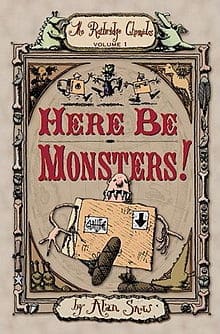 Here Be Monsters is the book that inspired The Boxtrolls movie. Just looking at the summaries you can see some of the differences but the magical, whimsical and imaginative world that Alan Snow created has truly come to life in this film (see trailer below) and has me even more excited to read the book and then watch the movie!
 Welcome to Ratbridge. But beware — for there is skulduggery afoot. Young Arthur has fallen foul of the appalling outlaw, Snatcher, and is trapped alone in the town with every way home sealed. Meanwhile Snatcher and his men are working tirelessly in secret on a fiendish and dastardly plan to take over — and destroy — the entire town. With the help of Willbury Nibble, QC; some friendly boxtrolls and cabbageheads; Marjorie the frustrated inventor; and the rats and pirates from the Ratbridge Nautical Laundry, can Arthur thwart Snatcher's evil plans — and find his way home? (Summary from Amazon.com)
So what's The Boxtrolls movie about?
The new 3D stop-motion and CG hybrid animated feature is a comedic fable that unfolds in Cheesebridge, a posh Victorian-era town obsessed with wealth, class, and the stinkiest of fine cheeses. Beneath its charming cobblestone streets dwell the Boxtrolls, foul monsters who crawl out of the sewers at night and steal what the townspeople hold most dear: their children and their cheeses. At least, that's the legend residents have always believed. In truth, the Boxtrolls are an underground cavern-dwelling community of quirky and lovable oddballs who wear recycled cardboard boxes the way turtles wear their shells. The Boxtrolls have raised an orphaned human boy, Eggs (voiced by Isaac Hempstead-Wright), since infancy as one of their dumpster-diving and mechanical junk-collecting own. When the Boxtrolls are targeted by villainous pest exterminator Archibald Snatcher (Academy Award winner Ben Kingsley), who is bent on eradicating them as his ticket to Cheesebridge society, the kindhearted band of tinkerers must turn to their adopted charge and adventurous rich girl Winnie (Elle Fanning) to bridge two worlds amidst the winds of change – and cheese.
Follow The Boxtrolls on Facebook for fun trailers and other Boxtrolls news!
Who will you be seeing The Boxtrolls with?
This post is part of a campaign with Focus Features and SocialMoms.  Opinions are my own.
0