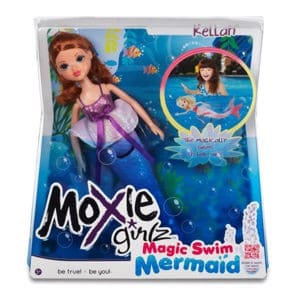 Moxie Girlz™ Magic Swim Mermaid™ is an adorable doll who can swim when she's in the water.  No on and off switch, she just swims, as if by magic.  She's a ton of fun in the bathtub but the kids and I are quite anxious to see how she swims in our pool in a month or so!!  One of our favorite things about the Moxie Girlz is their positive message- something that I love to see in a toy line.
We also love the hair that each Moxie Girlz doll has.  They each have hair that's brushable and easy to style- something that is done over, and over and then over again in my house.  Now we have a Kellan to play with on land and one to play with in the pool!  I have a feeling that someone will be asking for Avery's Mermaid doll for her birthday coming up…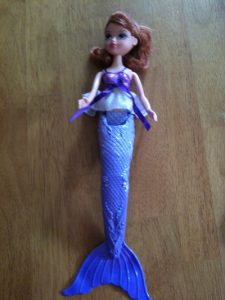 A mermaid doll that swims on her own! Little girls will love the magic and whimsy of this swimming doll. Just place her in water and her arms and tail begin to move! The ribbons, sparkles and beautiful hair add to the charm.

The Moxie Girlz™ are imagining themselves as sparkling, magical mermaids!  Product Features: First Moxie Girlz mermaid doll; Only doll that magically swims like a mermaid when placed in water. No on/off switch needed – she automatically swims on her own when she's in water; Since she swims with her tail, she gracefully swims on her stomach, her back and even sitting down; Sparkling tail; Beautiful hair and fashion; Two characters: Avery and Kellan; Age Grade: 3+ Price: $24.99

The Moxie Girlz Magic Swim Mermaid is a hit- in my house, and my guess is, it will be in your house too.  A mermaid doll with colors and sparkles and it swims as if by magic.  Plus, you can style her hair!
One reader will win a Moxie Girlz Magic Swim Mermaid!  To enter, simply follow the instructions on the rafflecopter form below.
I received a sample of this product to facilitate my review.  Opinions are my own.
0