I got a sneak peek at the theatrical release of the My All American movie, in a theater nationwide near you November 13, 2015! My All American is the wonderfully inspiring and heartwarming story of Freddie Steinmark, whose dreams of going pro with the NFL were changed forever when he experiences a life-changing event that changes every aspect of his life. One moment, and his life is changed forever.  I'm guessing you are thinking he had an injury…that was my first thought. I'm not going to tell you what did happen to Freddie to change his life so drastically…I think you should head to see it when it hits theaters in a few weeks.
From Angelo Pizzo, the writer of RUDY and HOOSIERS, comes MY ALL AMERICAN – the true story of one of legendary UT Austin football Coach Darrell Royal's (Aaron Eckhart) most beloved players, Freddie Steinmark (Finn Wittrock), an underdog who led his team to a championship season and was an inspiration both on and off the field. Please see the official trailer here.
This is an inspirational and heartwarming story, but the thing that struck me so much was that this is a biography. Freddie Steinmark wasn't just a character in a movie, he was real, and an absolute example of what hard work and dedication can do for someone. Not just for himself- but for those around him.  Freddie embodied to me what a hero is- someone who keeps going no matter what the odds or circumstances are.
My All American Hero is my cousin S. She has served as a single mom in active duty military, she's done the Reserves, she's been married and divorced.  She's been through it all and is still able to keep putting one foot in front of the other and plugging away with a smile on her face that will light up a room.  She was able to buy a house, do renovations and raise her daughter on her own.  S may not be everyone's All American Hero, but to me she is mine because she never gives up. She inspires me to try harder, do better and to appreciate more of the blessings I have. I think that's what a real hero does- despite circumstance or situation, they always push forward.  Against all odds, against many odds.
NOMINATE YOUR ALL AMERICAN HERE FOR A CHANCE TO WIN A TRIP FOR TWO TO THE PREMIER!
Your personal All American nominee should embody the goodness that resides within a true "against all odds" individual. We all have our own All American: someone in our lives who inspires us through their courage, drive, values and integrity in the face of adversity. Nominate your hero for the chance to win a trip to the Hollywood Premiere of the film in November!

I hadn't heard of Freddie Steinmark before I watched this film.  I opted not to look his name up online before viewing- I wanted to just experience the film without knowing his story.  Knowing that this was the story of a real guy, an ordinary guy, who wasn't the strongest or biggest or fastest or "best" and who still pushed himself always, inspiring everyone around him, gave me a different perspective while I watched. I felt a lot more connected to Freddie, his best friend, his coach and Freddie's love for his family as the story unfolded and the reaches of Freddie's impact on anyone around him became more and more evident.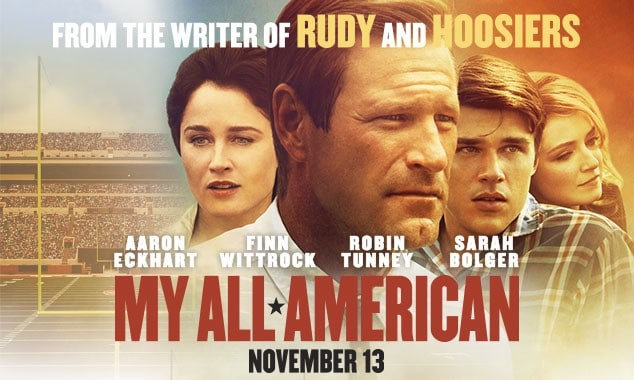 My All American Social Media links
Official Site:http://www.myallamerican.com
Facebook:https://www.facebook.com/MyAllAmerican
Twitter:https://twitter.com/myallamerican
Instagram:https://instagram.com/myallamericanmovie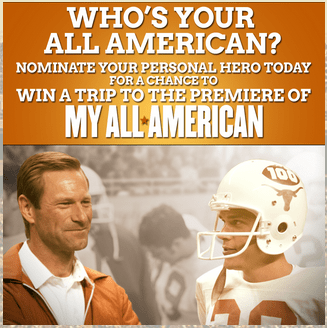 This blog post is part of a paid SocialMoms and My All American blogging program. The opinions and ideas expressed here are my own.