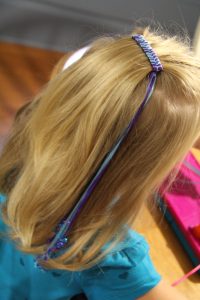 Ribbon Barrettes were *so* cool to wear when I was in middle school grades. Oh gosh, did I love them. I think I had pairs of them to match every single outfit I owned. Probably more. We shared, we traded, we gifted them. They were such a fun thing and I'm kind of (dorky but true) excited that they are coming back "in" for kids. The folks from My Friendship Bracelet Maker sent us one of their Ribbon Barrette Makers, and Busy B and I have been having so much fun creating barrettes in colors to match her mood, her clothes, for her friends…its so much fun for both of us and a great project to do together!! I love it!
The 80's are back. We can only hope that peg-legging your jeans doesn't come back with them. That would be wrong. But the ribbon barrettes? Cool. Fun. Creative.
Created with the 6+ crowd in mind, the Ribbon Barrette Maker offers a simple way to make the barrettes which really helps kids to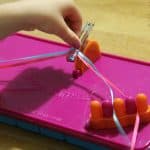 get the hang of making these- sans frustration.  My only issue with it (and its really not an issue at all) is that when you try to put the beads onto the ribbon ends, the ribbon only goes through one bead before splitting- so you end up trimming it several times (which isn't a length issue as the precut ribbons included are generous in length, but the beads are impossible for my 6 year old to string herself and she gets frustrated).

My Ribbon Barrette Maker from Media Café Online, LLC on Vimeo.
All in all this is a great toy that lets kids be creative and fun and even make things for their friends without breaking the bank!  Plus, they are so cute when in their hair!
One of my readers will win a Ribbon Barrette Maker!


I received a sample of this product to facilitate my review. Opinions are my own.
0