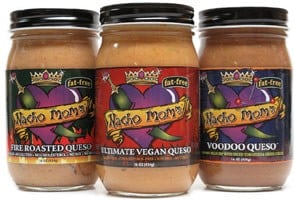 Honestly,  Nacho Mom's Vegan Queso is addictive.  When the 3 jars arrived I could barely contain myself.  I have been making my own plant-based (vegan) queso but sometimes I don't want to take the time and we LOVE our chips and dips around this house.  So, with some chips handy I popped open the Ultimate Vegan Queso and dipped in.  OH MY GOODNESS this queso is so good.   It is so creamy and "cheesy" and just the right balance of spices.  It is so good I told my husband that I felt like I was eating something bad for me but at 160 calories a jar and all natural, it is all good!  All of Nacho Mom's Vegan Queso's are all-natural and there are only 160 calories in the entire JAR of Ultimate Vegan Queso…and no fat! That makes it zero Weight Watchers points!   If you are a  "non-vegan" reader, believe me when I tell you that you will love this queso sauce and it heats up just like dairy queso.  Take a look at their fun website NachoMom.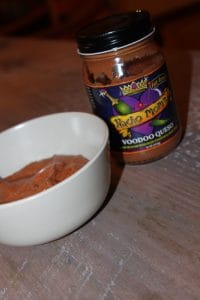 Chef Alana from Nacho Mom's Vegan Queso has been such a joy to deal with and she has offered 2 prize packs.  2 lucky winners with each receive three jars of queso.  The 3 jars will be Nacho Mom's Ultimate Vegan Queso, Nacho Mom's Voodoo Queso, and Nacho Mom's Fire Roasted Queso.   I have tried them all and I will be buying some more very soon.
For ingredients and more information go to Nacho Mom's site.
So you want to know where you can buy this product?  Here is a list of online and retail stores where you can find Nacho Mom's Vegan Queso.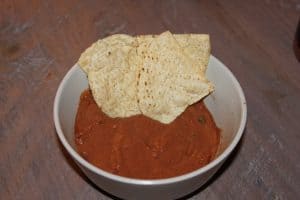 The Vegan Queso that is: Dairy-Free, Fat-Free, Soy-Free, Nut-Free, Cholesterol-Free, Sugar-Free, Guilt-Free, Artificial-Anything-Free…and only 160 calories in the ENTIRE 16 oz jar! (yet it melts, looks, and tastes like the REAL DEAL) Magic or Genius? You decide.
…and our Fire Roasted is Gluten-Free too!
I received samples of this product to facilitate the review.  Opinions expressed are my own.
0