Her Interactive is thrilled to announce the launch of the 29th edition of the award winning series with 
Nancy Drew: The Silent Spy 
for PC and Mac.  We all remember Nancy Drew from the books we read as children, right? Well, Nancy Drew has since joined us in the 21st century with a game made for super sleuths that love their computers! Available on both PC and Mac, Nancy Drew: The Silent Spy is currently in all major retail stores for just $19.99!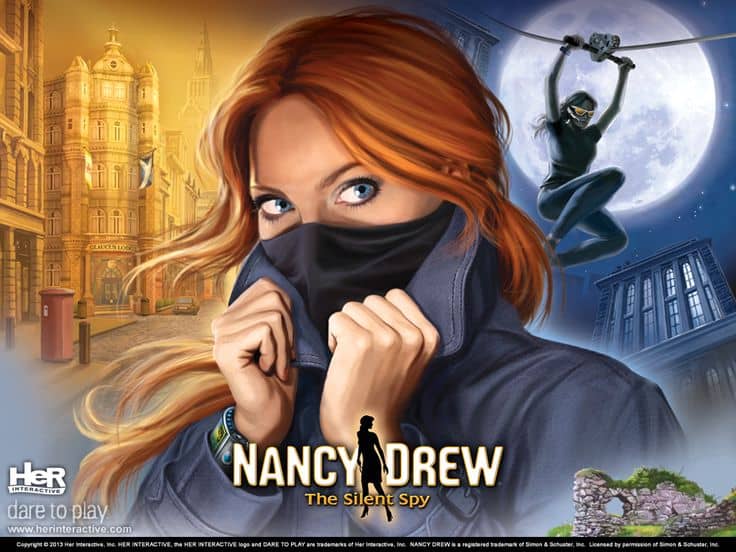 Nancy Drew:  The Silent Spy – Nearly a decade ago Agent Kate Drew left home to neutralize a biochemical weapon in Scotland. While her assignment was a success, Kate died in a car accident. Or so we were told. Now the echoes of a similar plot reverberate and it's up to you, as detective Nancy Drew, to thwart the sleeper cell and expose the truth about your mother's tragic demise.
This interactive spy game will keep you busy for hours as you navigate through the different scenes collecting clues. The art in the game is spot-on, and you feel like you're in the game, speaking to and interacting with real people.
Play games to earn money so you can buy train tickets and travel from destination to destination. Follow the clues and get closer to solving the mystery with every carefully planned step you take!
The puzzles in Nancy Drew: The Silent Spy are challenging, but not new to the game series. So, if you've played the other Nancy Drew games they may seem a bit familiar but they're fun nonetheless. This is also a great game for kids. Depending on their age(s), they might need a little help – but overall it's kid-friendly and will help exercise their minds.
If you're looking for an addicting and challenging computer game, look no further than Nancy Drew: The Silent Spy! Get it today for just $19.99.