National Geographic's Big Book of Halloween Fun is a great book for kids ages 6-12 (although most of the content is easy to modify for younger kids) that is divided into 8 different categories with crafts, recipes, costumes and goodies galore to entertain your child with Halloween fun! 
This book has eight sections featuring picture games, What in the World activities, Funny Fill Ins, Laughs, Spooky Myths Busted, Bet You Didn't Know, Do It Yourself, and More Trivia & Fun.   Tons of fun even for the adults in the house, if I do say so myself (which I do!!)  The pumpkin carving ideas are always welcome to those of us who find that task challenging each year in October.  Fans of the show "Mythbusters" like us will love the Spooky Myths Busted section!!
National Geographic Kids gets a spooky twist, just for Halloween. The National Geographic Kids Halloween Book of Fun! will keep kids and families entertained for the entire fall season. Packed with 80 colorful pages of Halloween-themed mazes, hidden picture games, pumpkin carving crafts, Halloween recipes, and more, this exciting activity book for kids ages 6 to 12 will feature the bold illustration style and amazing photography that they have come to love in National Geographic Kids magazine, the nation's top-selling consumer magazine for children. Kids will have a blast navigating through a spooky pumpkin patch maze, hunting for hidden pictures in a haunted house, or trying out new costume creations and pumpkin carving ideas—every page delights with spooktacular fun! This hands-on book is sure to be a thrill at home and is the perfect Halloween gift for young ghost and goblin friends.
We are already big fans of National Geographic, and very happy to add this Halloween book of fun to our collection! I can't wait to see what they come out with next! 
The other Halloween book we're featuring (and giving away) is a "classic" (am I old enough for my childhood likes to be classics?)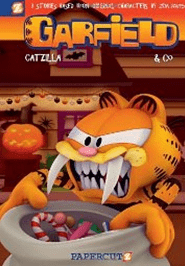 with Garfield and friends- called Catzilla. This is a really great book for Halloween fun without being super scary- or super challenging for early readers.  Geared towards the 4-8 crowd, there are three stories within Catzilla- the title story, Underwater World and Perfect Pizza (it can't be Garfield without a mention of pizza, right?)
It's Halloween and Garfield has dressed up as Catzilla, a fierce wild cat, to go out trick or treating. But what he doesn't know is that the real Catzilla has escaped from the zoo, and police are looking for him, leading to a wild case of mistaken identity! Will Garfield end up in a zoo, and will Jon and Odie be trapped with the real Catzilla?
FOUR Readers will each win a prize pack including a copy of each of these titles.  This is a SHORT duration giveaway so that you can have your books before the holiday!! 



Samples of this product were received in exchange for this post.  Opinions are my own.