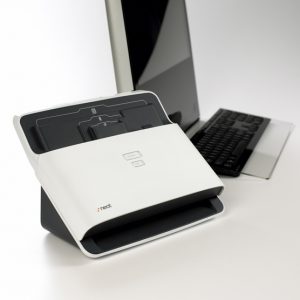 Part of my New Year's "Resolution" is to be more organized– in terms of papers.  We have a modestly sized home without tons of storage space, and when it comes to saving copies of bills, medical receipts, bank statements, etc., there just isn't space for it all. Having caught sight of the infomercials on TV for the NeatDesk, and hearing a few blogger friends say they wanted it, I decided I needed to see if the NeatDesk might be the answer to my problems.
I think it is.
NeatDesk is a scanner and digital filing system that intelligently organizes and secures all your important information on the PC or MAC.

Transform your workspace into a space that works.
At work or at home, NeatDesk declutters your workspace, providing a central "inbox" for all your papers—ready to scan when you are.

All-in-one scanning.
Our removable input tray can scan both sides of up to 10 receipts, 10 business cards, and 10 documents at a time—or even a single, 50-page document.
The unit itself has a small footprint, (even smaller if you get the Neat scanner) with three different slots to fit different sizes of papers to be scanned. That means it isn't taking up a huge amount of space on the desktop or countertop.  (For those of us with small children, it also means it is quite easy to put the NeatDesk up and out of the reach of small hands…)  The different sized slots mean that you are less likely to have papers and documents get jammed in the machine.   You can also scan things in batches- which saves a lot of time in today's busy schedules!
Once you've gotten your business card, document, or other paper scanned in black and white or in color, YOU get to choose how it gets categorized.  Or rather, I do.  You can choose at your house.   This is one of my favorite features- my dad used to call my way of thinking "Brett logic" and while he did have a point, and I maybe don't think exactly like the rest of the world, my logic works for me.  The NeatDesk lets me take the things I scan and get them categorized in my own way, not to some preset way that might not work for me.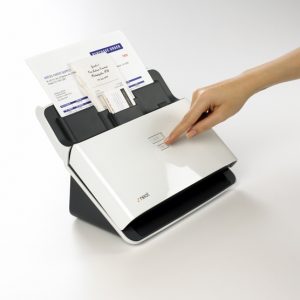 Aside from financial papers, I think the second most used feature for my house is the receipts- I have been able to scan receipts from purchases that I intend to donate, which makes it easier at tax time (or will this coming year.  Our 2011 receipts are still a jumbled mess).  I can keep all gift receipts scanned and categorized, so I can track exactly how much was spent on the kids' birthdays, family birthdays, holidays, celebrations, etc.  Being a new Daisy Girl Scout leader, I want to keep track of those expenses as well.
One thing I have not yet used the NeatDesk for is scanning business cards- but with the intent to attend at least one blogging conference this year, that will likely change quickly.  I have a feeling I'll be taking at least one trip relating to my blog in addition to that, and my last trip had me come home with over 25 business cards so I want and need to get those scanned so I don't lose valuable contact information!!
A friend of mine works in real estate- I think for folks in the real estate industry, using a NeatDesk would be a huge help as well.   Just think of how many papers you sign with real estate transactions- offers and counter offers could be shared quickly with this software and program!  Swapping recipes, school papers, important family papers, recipes (preserving handwritten notes on those cards).
Documents are not just stored on the NeatDesk software, they are also able to be shared- in many file formats.  You can export your scans to several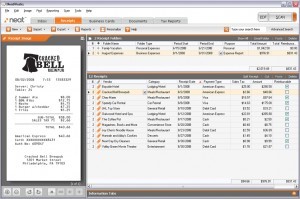 different tax programs (again, I can't wait to see how this helps me next year!!) and also save them in different formats to share.  Scans can be saved as a pdf (software is included in the box when you purchase the NeatDesk), word docs and more.

NeatDesk retails for $399.95 (with a $20 instant coupon on their site right now) for both the PC and MAC versions.  You can also find NeatDesk Desktop Scanner and Digital Filing System

on Amazon for $369.99 right now with free super saver shipping.
ONE of my readers will win a NeatDesk for their house or office!!


a Rafflecopter giveaway
I received a sample of this product to facilitate my review.  Opinions are my own.
0