About 15 years ago, my friend Cathie surprised me on my birthday with a gift bag.  Inside that bag was my first "tart warmer" with some tea lights and Yankee Candle tarts.  I was hooked after about eleven millionths of a second.  A love affair began that day, back in 1997? 1998? I can't even remember which…but it's still going strong even today, in 2012.  I'm fortunate (to my husband's chagrin) enough to live just over an hour from the Yankee Candle headquarters in Deerfield, Mass…and we make a few trips up there each year for fun.  I love it.  Room after room of candles and candle products and other Yankee Candle lovers just like me happy to browse and wander among the marvelously colorful and scented candles.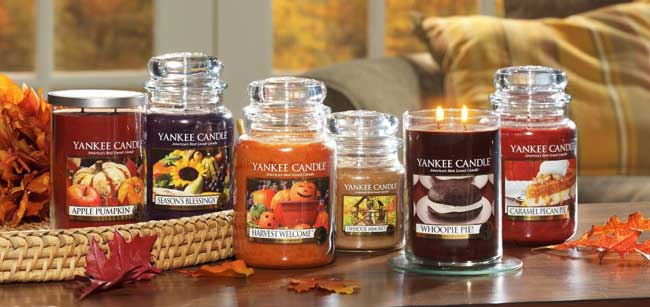 Now it's September and fall is here and Yankee Candle has some fabulous new scents to celebrate the coziness and simple pleasures of fall. Yankee Candle's new products add style and fragrance to every home for the autumn season.  There's even a Whoopie Pie candle.  Does that mean there is finally a calorie-free, guilt free Whoopie Pie I can enjoy?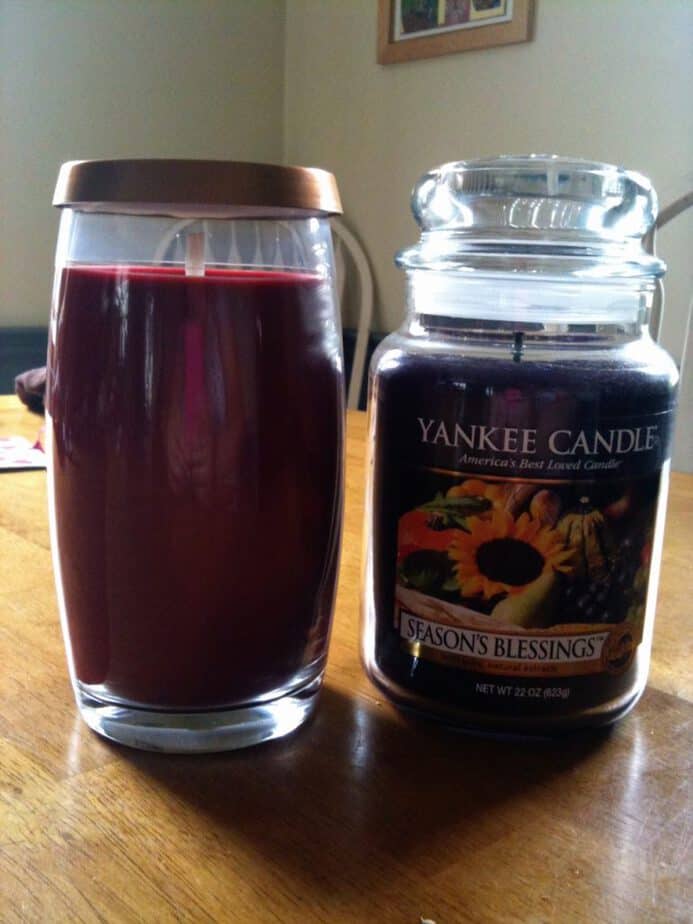 New Fall 2012 Fragrances – Inspired by cherished memories of the fall season, the new collection features a range of fragrances to help welcome the autumn into your home.  Scents like Treehouse Memories, Season's Blessings, and Harvest Welcome are perfect for any fall occasion – whether cozying up to the fireplace or enjoying a meal with friends and family. (Multiple sizes and forms, $1.99 – $27.99 MSRP)
Apple Pumpkin: Cultivated with care…home-grown apples and pumpkins blended with ginger and clove.
Treehouse Memories: Warm, earthy woods wrapped in sweet, familiar spices evoke memories of crisp autumn days spent amongst the changing leaves.
Harvest Welcome: Welcome home! Cozy up with this inviting combination of farm-fresh pumpkins spiced with just the right amount of brisk autumn air.
Season's Blessings: Partake in a fragrant array of nature's bounty…perfect notes of pear, plums and grape with hints of spice and cardamom.  I LOVE this scent.  I've only burned this a few times on cooler days- it smells just like fall to me and makes me want to go apple picking and to a pumpkin patch, and it's not quite time for all that…so I'm trying to hold off. I love it.  The cardamom just adds a different twist on the scents together and the result is quite…well, autumnal.  
It may be because fall is my favorite, but each of these new scents appeal to me. I want them ALL.  If only my house was large enough to have a different scent in each room…
It's not just the fall fragrances that are new from Yankee Candle this season- there are 2 Pure Radiance scents sure to delight many…the Apple Chai is divine. I love the smell of Chai but having it in my house all the time is just marvelous.  These candles have a bit of a sleeker look, more modern design to them, although they still retain that beloved and strong Yankee Candle fragrance that YC is so known for.
Pure Radiance – Joining the collection of contemporary candles this fall are Apple Chai and Pumpkin. A new line that debuted earlier this year, Pure Radiance features a sleek, modern design and a custom soy wax blend to add a stylish accent to home décor. (3 sizes, $10.99 – $27.99 MSRP)
 Yankee Candle would like to send one of my readers an Apple Chai candle and one of my readers a Season's Blessings candle!  
Loading Entry-Form…
…
I received a sample of this product to facilitate my review. Opinions are my own.