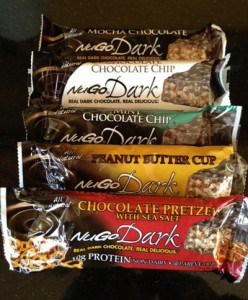 Today the mail carrier brought me this incredible selection of NuGo Dark Chocolate nutrition bars.  I am already quite familiar with the Chocolate Pretzel variety.  That is my breakfast most work days.  It is easy to throw in my work bag and it is so good, it makes me happy. The combination of the sweet and crunchy filling, the dark decadent chocolate and the amazing sea salt is something I will never get sick of.
NuGo bars are  Gluten Free • Non-Dairy, OU Pareve • Vegan and have 10 Grams of Protein.   My husband has one of the Peanut Butter Cup bars everyday.  Before switching to a plant-based diet, my husband was a huge peanut butter cup fan.  This bar fills that craving without making him compromise his dietary plan.  They are truly delicious and pack a load of flavor into 200 calories.  The NuGo Dark bars are filling and almost make me feel like I am cheating and eating something unhealthy.
You can buy NuGo Bars online or use their Store Locator to find one of many stores in the US and Canada that carry them.  I get mine by the case at my local Whole Foods Market.  NuGo Bars are clearly labeled and NuGo Nutrition, the company that makes REAL dark chocolate coated protein bars for many lifestyles, urges the FDA to create a standard of identity for dark chocolate. Consumers deserve to know what is in their food!  They have an online petition that can be signed to support this issue.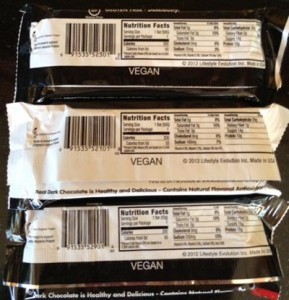 NuGo also likes to give back to the community.  They donate a portion of their sales to The Children's Alopecia Project which is the only non-profit devoted specifically to all forms of the incurable autoimmune hair loss disease, Alopecia. Their mission is to help any child in need who is living with this life altering disease. Their goal is to build the self-esteem in children so they become stronger teens and more productive adults and become the advocates of tomorrow.
NuGo has offered to giveaway a mixed box of all five certified gluten-free NuGo Dark flavors (a total of 12 bars) to a winner who lives in the continental US.
a Rafflecopter giveaway

Samples of these bars were provided to facilitate the review.  All opinions are my own.