This healthy trail mix recipe post is brought to you  by our friends at The Nut Job.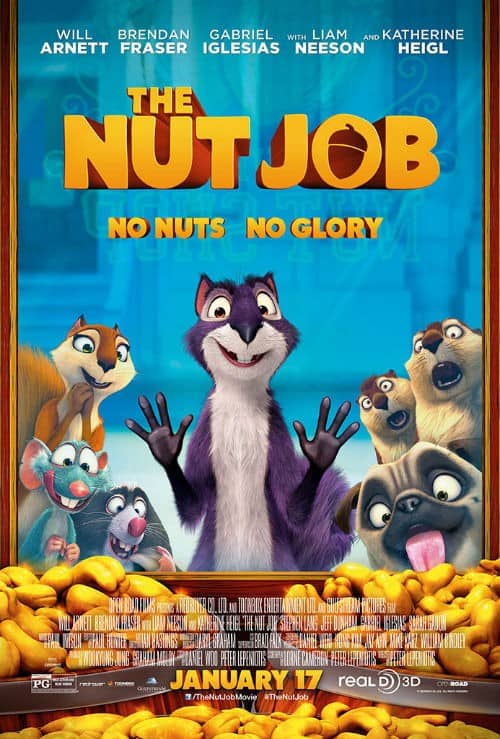 The Nut Job, featuring  WILL ARNETT, BRENDAN FRASER with LIAM NEESON and KATHERINE HEIGL, opens IN THEATERS JANUARY 17.  We're very excited to see this new animated movie as a family!  It looks funny but also has lots of action sequence and more subtle humor for the adults too 🙂 We can't wait to see MORE of it!
There's a whole lot of nut-eating critters in the city and when Surly, a spunky little squirrel, goes to sneak some free nuts from a nut cart in the park…and gets himself banished from said park…well, things go haywire and mayhem ensues.  Panicked about their food source, the critters find a food source (Maury's Nut Store) that's armed against critters like themselves and, much like the Italian Job movie, there's a very elaborate (and hilarious) plot to rid the Maury's of their nuts and save the critters of the city.
To get MY kids even more excited to see this film, aside from the viewing of the trailer approximately 3234 times already, we decided to come up with a Healthy Trail Mix Recipe that's sure to please the whole family and add to The Nut Job excitement in the house!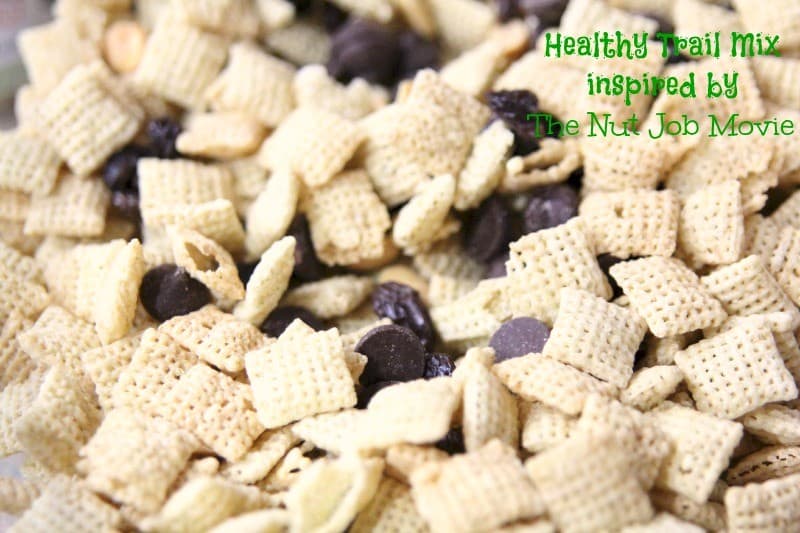 Ingredients:
2c Rice Chex
1 c Unreal Candy Coated Chocolates OR Dark Chocolate Chips
1 c Mixed Nuts (we're partial to peanuts and almonds in our house)
1c raisins
Alternative Ingredients for a Healthy Trail Mix Recipe: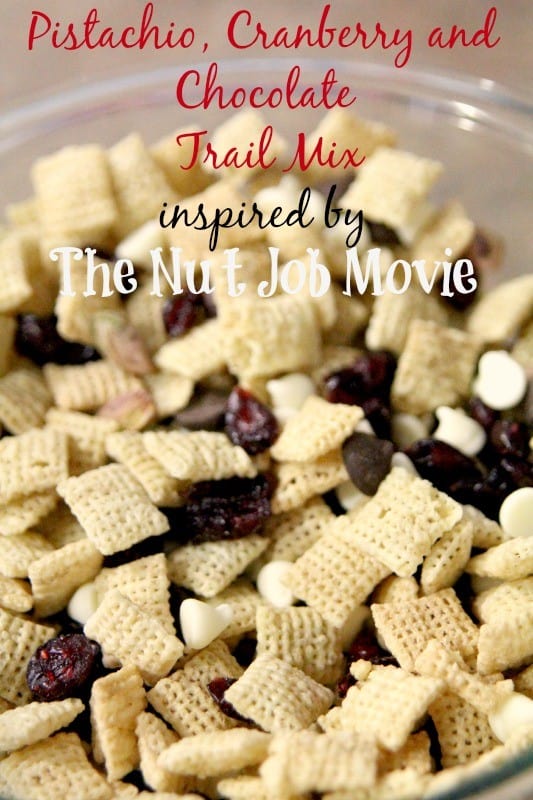 Ingredients:
2c Rice Chex
1 c Pistachios
½ c dark chocolate chips
½c white chocolate chips
1 c dried cranberries
(finished trail mix images)
Directions:
Toss ingredients together and serve. Store in airtight container if you have leftovers.  (IF).
That's it.  A fun, easy, healthy trail mix you can make to get you and yours excited for this new animated family movie coming to a theater near you January 17th.  It looks like a fun time for the whole family!
You can find The Nut Job Movie on
Facebook
and
Twitter
– I'm following so I can catch new trailers and sneak peeks first!
One reader will win a $50 AMC Gift Card so you can bring your own family to see The Nut Job! Enter on the Giveaway Tools form below