This is a sponsored post written by me on behalf of the Pistachio Health Institute.
So I'm working on the healthy me again.  Eating better, exercising.  Of course, with exercising comes hunger and I have to be aware of what I am having for snacks.  Thankfully, one of my family's FAVORITE snacks is healthy, full of fiber and loaded with vitamins, minerals and antioxidants.

Pistachios.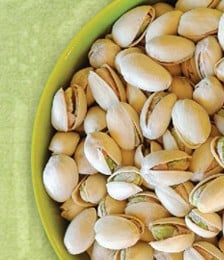 We all love them, any way you want to serve them, but all of us prefer to shell our own.  Probably because it's just plain fun to shell your own 'stacios but also… for me anyway, the shells kind of offer visual cues and reminders about portion control.  That pile of shells is a great indicator that maybe you've had enough. There's a lot of pistachios in one serving.  Like 49.   These little nuts pack a serious punch in the snack department.
They also have the fiber. Yes, fiber. We all eat, we all need fiber.  I prefer to have natural foods giving me fiber and not having to end up with a supplement some day.  Pistachios are like the perfect snack. Good for you, generous portion sizes, and lots of benefits to your body.  That's a win all around!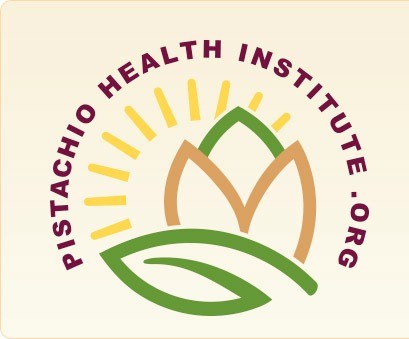 The Pistachio Health Institute website has a ton of great information about pistachios, their benefits, and overall awesomeness.  Find out more about heart health, weight management (pistachios are great for helping with this!) and more. They've teamed up with Valerie Waters, celebrity trainer, to help spread the word about the awesome of pistachios. She's got some really great tips in this infographic, check them out!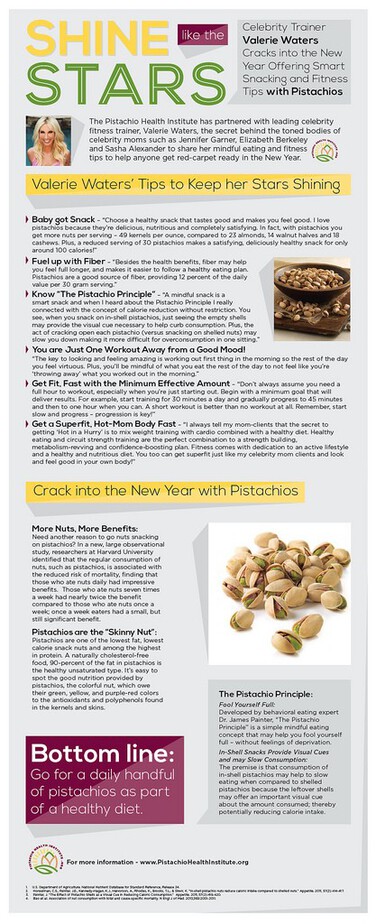 My favorite tips from Valerie?
The Pistachio Principle (which I touched on above- but really- cracking shells can slow you down and you may just realize with the visual cues from the pile of shells that you've had your fill for the day.
And really, the fiber.
We all need fiber.
I learned this the hard way. I've told you about that.
Get your fiber, people.
GET YOUR FIBER! 
The Pistachio Health Institute and Ms. Waters have teamed up for the Shine like the Stars promotion over on the PHI Facebook page- head over and enter to win some fabulous prize packs! You're nuts if you don't! (See what I did there? I said you are nuts…and this is all about pistachios, and they are nuts….)

3 winners will receive "Shine like the Stars Sweepstakes" prize packs, which include:
(1) Valslides autographed by celebrity fitness trainer, Valerie Waters
(1) Valerie Waters workout DVD
(1) Valerie Waters workout instructions
(1) Pistachio Health tote bag
(1) Pistachio Health nut container
(3) 8 oz. bags of pistachios
(1) $100 VISA Gift Card
To enter, participants must Like the Pistachio Health Institute Facebook page and enter their name, address and contact information here: http://bit.ly/1ccjp8i.
So what are YOUR favorite healthy snacks?
This is a sponsored post written by me on behalf of the Pistachio Health Institute.