Last month, I introduced you to the awesome that is the Lutron Occupancy Sensor Switch.  I also introduced you to my um…lack of attention to details at times…and you all got an inside look into the mess I made of things.  Happily, I have an amazing and talented husband who's able to fix things for me.  And who also happens to be furloughed so he can spend time doing electrical work and installations of the afore-mentioned light sensor switch even when life is super hectic for our family….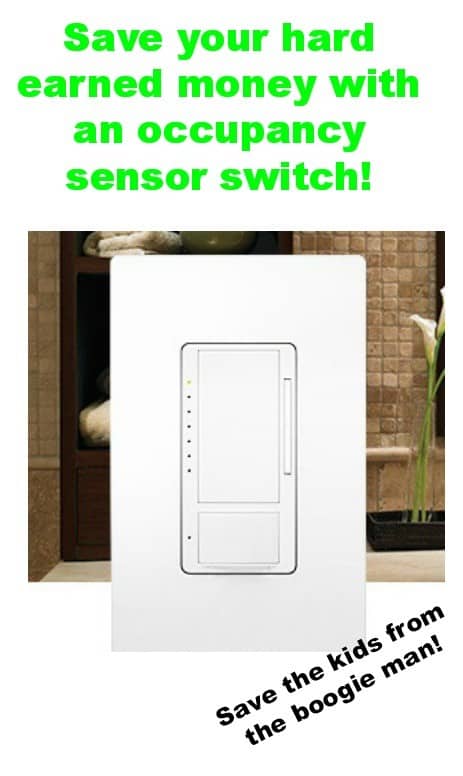 "I participated in a campaign about light sensors on behalf of Mom Central Consulting for Lutron. I received product samples to facilitate my review as well as a promotional item as a thank-you for participating."
So.  We have 2 Lutron switches  installed now.  One (shown in video below) is a "regular" single pole switch.  We have it set to turn on automatically when someone enters a room and to turn itself off automatically when no one is in the room.  We're guessing we'll be taking a nice vacation by the time the kids leave home, having installed it in the basement.  Why?  Well, 2/3 of our kids are afraid of the dark.  3/3 of our kids are not really all that into turning lights off.  We don't have a walk-in pantry so most of the pantry foods are in the basement.  Our chest freezer is in the basement.  The kids like to help. See where I'm going with this?
The 2 that are scared, just like their mama did as a kid, grab what they need and BOLT up the stairs.  There's just no time to turn a light off when you feel like the boogie man is down there with you, you know?  You need to be in and out of that room FAST.  The other, well, that one just isn't into details like lights on and off, I suppose.
My husband, I think, surprised himself the most.  He's somewhat of a skeptic and wasn't really sure we'd like this light sensor switch, nor that we'd want to install more. Well, we've just finished remodeling our breezeway and it's included approximately 10000 trips up and down the basement stairs, usually with arms full of things going both up and down the basement stairs.  Not having to hit that light switch on or off has been awesome for my hubby.  It's nice for me too because while I'm very diligent about turning lights off, the basement is the one place I do sometimes forget.
You can totally set these sensor switches to go off when it's daylight or after so many minutes- but really? This is the best use for us in this house.  We want to get another 3 way sensor switch for the upstairs hallway- that way when the kids get up in the middle of the night to use the bathroom, have a bad dream or aren't feeling well, they'll have light to see.  Or we parents can have light to get to them quicker if we hear them and something's wrong.  It's light but not in their bedrooms and it's a GREAT middle ground.

I have a special offer for my readers: 
25% off Maestro occupancy/vacancy sensor dimmers and switches on LutronStore.com PLUS one free Claro single-gang wallplate ($4.90 suggested list price) with each qualifying item.
Promo Code: wholeftthelightson
Code expiration date: Sunday, Oct. 31, 2013 
FIVE of my readers each will win either a Maestro Occupancy Sensor C.L. dimmer or a Maestro Occupancy Sensor Switch from Lutron!