The Organic Belle Baby Carrier is a well constructed, ergonomic, parent-friendly soft strucured carrier that can carry a baby from 5-35 pounds, front or back, rear facing or front facing.  Its also a beautiful carrier to just look at end enjoy- especially with the pretty fabrics they have chosen for the carriers themselves!
 (This is a guest review from my dear friend Kelly, who is awesome beyond awesome and more willing than I to be photographed in a baby carrier….here's her thoughts)
I love this carrier!! I have used several with my children, and this one is the simplest to use without compromising comfort for baby or me. The first time I used it, it took me less than 1 minute to put it on and strap my baby in without any help from others. It took her less than 5 minutes to fall asleep while facing inward.
It is a simple construction, so there is not a lot of material or straps to have to figure out and maneuver, and it will not take up much space if you have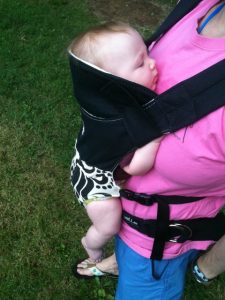 to pack it. The waist belt sits at your hips, so your hips carry most of the weight, not your shoulders. They use the same buckles as those used on high-end outdoor backpacks, so you know they are sturdy. It has padded shoulder straps that cross over in the back to make it very comfortable to use for longer periods of time. There is a removable head support that you use when baby is facing in, and then you can very easily remove it when your baby is facing outward.
My baby has faced inward and outward, and has enjoyed the coziness of both. I even vacuumed with her facing outward, and there were no complaints from her or me (except I would rather not have been vacuuming). It comes in a few different stylish prints. It is machine washable and made in the U.S.A (Boulder, CO).
One of my readers will win a Belle Baby Cerrier of their choice (depending on stock availability).  This will be a Rafflecopter giveaway so entries will only count that are put into the form, unless otherwise noted.