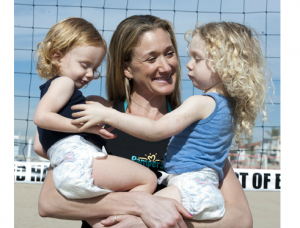 I am so excited for the Summer Olympics this year.  I love all Olympics but the summer events are my favorites to watch.  I think I may be even more excited for the summer games this year because my kids are starting to be old enough to appreciate and enjoy watching with me!  Pampers has come out with Limited Edition "USA" Diapers and Wipes to celebrate the Summer Olympics- and I think the USA diapers are adorable.  Seriously adorable!!  Check them out!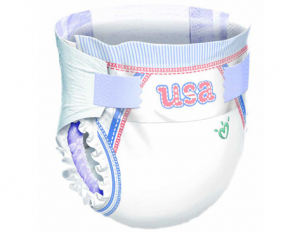 It's kind of neat that Two-time Olympian Medalist Kerri Walsh  (and Team USA hopeful for 2012) is the athlete promoting these diapers and wipes, she was one of my favorite athletes to watch at the 2008 games.  (Although I cannot believe it has been 4 years since the last summer games already!! I only had 2 kids!!)
The Pampers Limited Edition "USA" diapers and wipes combine utility and aesthetics, so little ones can explore and conquer their world through play, while also amping up team pride during the London 2012 Olympic Games. The diapers feature an adorable "USA" logo print combined with red, white and blue stars and stripe designs while the wipes packaging pays tribute to Team USA with a similar design. Pampers Limited Edition "USA" diapers and wipes designs will be available in mid-April while supplies last at select stores nationwide. The diapers are available in Cruisers sizes 3 through 5.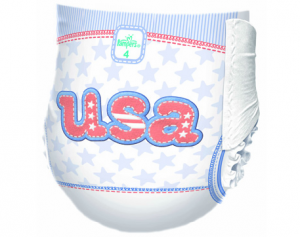 In addition to the 'Team USA Sweeps' on Facebook, those wishing to celebrate the spirit of play at home are also encouraged to visit the Pampers Playground starting April 16th, a newly launched interactive platform on the Pampers Web site  encouraging parents and caretakers to share all the ways babies love to play. Within the Pampers Playground, there are three sections for parents and little ones to explore together:
The Picnic Table gives parents the chance to upload and share photos and videos of all of the different ways their baby likes to play.
The Toy Box provides visitors with fun tools and games to help baby play each and every day including an interactive and original storybook.
The Park Bench offers articles detailing the importance of play for little ones.
But it doesn't stop there.  P&G – the parent company of Pampers – will showcase their heartfelt "Thank you, Mom" campaign at the London 2012 Olympic Games recognizing the incredible role that mothers play in the lives of their children.  As part of this of this inspiring campaign, P&G plans to raise $5 million to help establish and sustain youth sport programs around the world. A portion of sales and donations for the company's leadership brands including Pampers®, Tide®, Gillette®, and Pantene®, will help those who moms care about the most… children.
To learn more about the Pampers Limited Edition "USA" diapers, the London 2012 Olympic Games Facebook Sweepstakes and the new Pampers Playground, visit Pampers' Facebook page.
 I will receive a sample of these diapers in exchange for posting.  Opinions are my own.