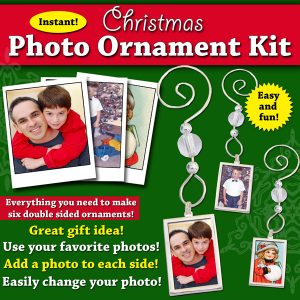 I had some fun with a few wedding photographs from my nephew's wedding this fall this week.   The folks at PhotoJewelryMaking.com sent me a cd-rom and supplies to make some Beaded Photo Christmas Ornaments – such a fun activity, easy to do and I can see me using this software to resize a lot of images for crafts and projects we do- not just for ornaments!  One thing I REALLY like is that they suggest you just use regular paper for printing- no need for expensive photo paper, because the thinner paper fits into the openings better.
Making your ornament is pretty simple (I had a few freeze-ups with either the program or my laptop or both, but with that exception, this was smooth sailing).  
First, you install the CD-ROM with the software.
Next, the program directs you to add whatever images you want.  Just a note- the size was preset for 10×10 on mine.  For the square ornaments the 20×20 is what you need.  It took me a few times to figure that out.  So if you decide to order this, take note!!  I have a lot of tiny photos of my family laying around (although I will be silly with those printed out minis).
Once you decide the image, you can crop it, add text, edit it (greyscale, antique feature) and then you add it to the "project."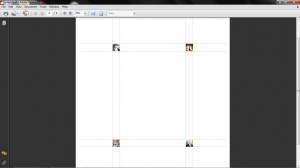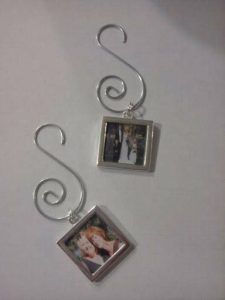 After adding up to 4 images to your "project," you click finish- which prompts the program to create a pdf of your images- and it will either 1. open the PDF in a new window for you to print or 2. tell you to open the PDF yourself to print.
Remember to use regular printer paper!!
Once your project prints, you simply cut the images out, slide them into the plastic sleeves of the ornament, and voila!! Instant photo ornaments!!
When I was making these, I was thinking how fun it would be if you had one of those tabletop ornament trees (like the metal ones?) and if you had a party, to print out pictures of all of the guests or the guest of honor, and hang those on the tree.  These are THAT easy to swap images out.  You can probably put an image for both sides of the ornament as well, doubling the fun.  I can also see using these for school projects, maybe even family trees!?
Want to order?  Enter code holiday20 to save 20% at checkout!  All Christmas photo ornaments are on sale right now, too0 the Beaded Photo Christmas Ornaments (set of 6) is already 50% off at $10.00  so the 20% off makes this a STEAL at $7.99!!
This review was made possible by Mom Spark Media. Thoughts are my own. All prizing for MSM giveaways is handled by a third party unless otherwise noted. For this reason prize fulfillment can take up to 90 days after the winners information is received.
0