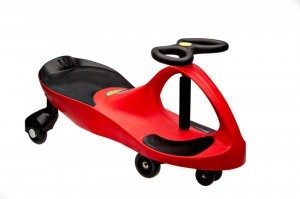 We all know that the holidays are looming oh so near.  For me, this usually means a lot of anxiety about Christmas gift buying.  I have a particularly difficult time with the kiddos on my Christmas list.  It seems like this should be so easy, but I never know what they might already have/want or need.  I also don't like spending money on a toy that will be used once and will be stuffed in a closet for eternity taking up space.  This year my problems have been solved!! 
The generous folks at PlaSmart Inc. sent me a red and black Plasma Car for review and wow did we have fun with it!  Have you heard of the plasma car yet?  This thing is FABULOUS!!!  It is so much fun and has won numerous awards.   The plasma car is a ride-on toy that is propelled by swivelling the handle back and forth.  Simply sit on the seat, put your feet up and stear away!  It is rated for children 3 and up and can support up to 220 pounds.  I love that it requires no batteries.  This toy is quiet and provides endless fun!  My children, my husband and yes, even I hopped on to give it a whirl.  This toy works best on flat level surfaces, but be careful on indoor wooden floors and laminate surfaces as it may cause scratching.  We used ours on in the basement on our laminate flooring and had no problems at all.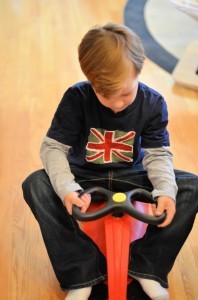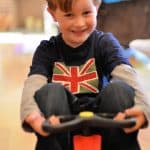 My Opinions:
 It was so much fun to play with this car indoors in the cool weather.  It allowed my children to expend some pent up energy and I know it will be so much fun to take outside next spring.  My entire family had a blast playing with this car and it is surprising how fast you can get this thing going.  At a price point of around $50 this would make a great Christmas gift for a child (or family).  I plan on giving one of these to my little nephew for the holidays this year and I know he is going to love it!  I guarantee that any child would be thrilled to receive a Plasma Car for Christmas. 
Follow PlaSmart Inc. on Facebook and Twitter for product updates.
One of our lucky readers will win a Plasma Car in  their choice of colors!!!! (based on availability)
 



I received a sample of this product to facilitate my review.  Opinions are my own.