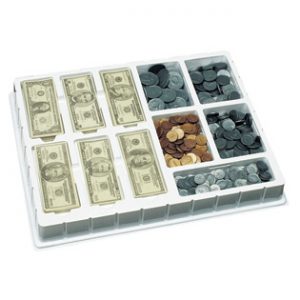 Learning money is hard for many kids, my oldest included.  Coins in particular are very confusing, especially since the larger coins aren't always the greatest values.  Since my oldest will be needing to bring coins for part of her school supplies for first grade, and will be eating lunch at school this year, I thought that we should have some practice here at home, with play money that actually resembles the money we use every day. The Play Money Coins & Bills Deluxe Set from Educational Insights  is a wonderful play money set that will be  a teaching tool I use for many years to come- and something my kids are loving for playtime!!
Since my oldest is only just turned 6, we've been doing a lot of work the past few weeks with the coins, identifying and matching values of each.  This is something that they worked on in Kindergarten last year but like I said before, is really hard for my daughter to grasp.  Dimes are the smallest and are frequently given the 1cent value in her mind because of the size.  We have been doing role play of shopping at the store, buying toys from the other kids, having "tag sales" in the play area of the living room.  Its definitely helping and I like that these coins aren't going to cost me money if they get lost!
We've also been practicing with the money set for my daughter to purchase lunch or drinks at the cafeteria.  The price is changing soon so we'll be practicing all through August as well, but right now we're working with $2.25 as the price, so we've practiced with dollar bills, quarters, dimes, nickels and pennies.  I'm trying to get her to be comfortable with what might be in her cute little coin purse I got for her to keep in her backpack – I realize the staff at school can help the kids especially at the beginning of the year but I also want her to have this knowledge so she understands.  We've spent many hours the past few weeks with me playing the "lunching lady" and her being the "customer."
Perfect for money math activities in centers or imaginative play.

Features realistic, actual-size plastic coins and paper bills that help children learn to recognize different denominations
Supports math-related life skills, including counting, addition, subtraction, making change and balancing a budget
Makes a great addition to pretend stores and other imaginative play scenarios
Includes coins from pennies to half-dollars and bills from $1 to $100 (750 pieces in all)
Stores all pieces in convenient tray for easy cleanup
Grades K+

$5,666.000 Total

100 – Pennies
100 – Nickels
100 – Dimes
100 – Quarters
50 – Half Dollars
100 – $1 Bills
50 – $5 Bills
50 – $10 Bills
50 – $20 Bills
25 – $50 Bills
25 – $100 Bills
You can see by what is included in this set (listed above)that there is plenty of play money included for an entire classroom.  My plan is to share this set with a few friends of mine who have kids similar ages so that they can use it as a teaching and play tool as well!  I have been so frustrated trying to find play money that resembled real money for a while- anything that did resemble was cheaply made and I wasn't pleased with it at all, up until now.  Teachers and parents can get a lot of use with this set, and I'm so glad one of my readers can win one of their own!
One reader will win a Play Money Coins & Bills Deluxe Set from Educational Insights!
Mandatory Entry: Leave a comment with your name and be sure to include a valid email address in the comment form!
Extra Entries:
Follow Educational Insights on Facebook
Visit Educational Insights and tell me something else you'd love to try!
Follow me on GFC, Facebook, Twitter or RSS/Email Subscription (+1 each)
Share this giveaway on any social networking site (leave URL of your post please!! hint: right click the time stamp!!) #win play money coins and bills set @EI from @mamatomjr https://www.thismamaloves.com/?p=10552 #educationaltoy #toys #learning (can be done 2x day at least 1hour apart)2x/day at least 1 hour apart
This giveaway will end on August 18, 2011 at midnight, EST. US only. Winner to be chosen randomly. Winner has 48 hours to respond to my email or a new winner will be chosen.
I received a sample of this product to facilitate my review. All opinions expressed are my own.
0