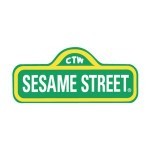 Is your little one a fan of Sesame Street?  My daughter, Savannah, just loves this show, especially when Elmo, Zoey and Cookie Monster appear on the screen.  Since welcoming Savannah in 2010, I have been exposed to shows and toys that were a big part of my childhood and which I have fond memories off.  So, when she began watching Sesame Street and enjoying it as much as I did when I was little, I couldn't help but smile.  And, when it comes to Sesame Street merchandise, I can't get over what is available nowadays, compared to 20+ years ago.  All the new toys on the market are so technologically advanced, in their ability to interact with other toys, as well as all the features they offer.  I remember having a doll that you could crank her hand to make her hair grow and get shorter.  And, as a little girl, I thought this was amazing.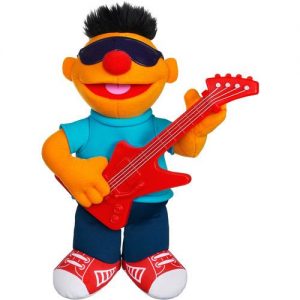 A few weeks ago, I was sent Playskool's Let Rock! Singin' Cookie Monster and Let's Rock! Strummin' Ernie dolls to review with
Savannah.  As soon as I took them out of the box, she ran over and began asking for "Cookie" and "Ernie."  I still can't get over how she knows the characters by name and can point them out when she sees them in books, on television and when she sees them in stores.  Being the first grandchild, my parents spoiled her this past Christmas with everything Elmo.  They bought everything they could find Elmo, except for the Let's Rock! Elmo toy, which was a hot holiday item and was sold out at the time.  Fast forward a few months later, and Let's Rock Elmo toy is now part of her collection, as are the Let's Rock Ernie and Cookie Monster dolls.  Did you know that if you put each of the characters next to the Let's Rock! Elmo doll, they will rock out together (Note: You can only pair Elmo and Ernie or Elmo and Cookie Monster together to interact together —  It doesn't work if you try to have all three rock out together).
The LET'S ROCK! Strummin' Ernie doll stands 12 inches tall, comes with a guitar, and sings and rocks out to "Old McDonald."  As for PLAYSKOOL's LET'S ROCK! Singin' Cookie Monster, he is also 12 inches in height, but comes with a microphone, in which he sings into.  When you push Cookie Monster's hand, holding the microphone towards his mouth, he begins to sing.  The closer you put the microphone to his mouth, the louder he sings.
When paired with Elmo (check out our review of Let's Rock! Elmo), the Let's Rock! Cookie Monster doll sings, "If You're Happy and You Know It," and Elmo chimes in with "Clap your hands!"  The first time Savannah saw the two characters interacting together, she didn't know what to think?  She gave me a puzzled look, like how can this be.  But, that didn't stop her from jumping around and clapping her hands in excitement.  She loved having an instant rock band in the house, and even joined in with her musical instruments.  By adding these two Let's Rock! dolls with her Let's Rock! Elmo doll, it has brought a new level of fun and excitement to playtime.  When Elmo tells her to clap her hands, she does with a smile and laugh.  And, when Ernie sings about the animals on Old McDonald's farm, she can't help but laugh at their sounds.  I am loving watching her play with these toys from Playskool, and seeing her get into the song and dance.  I can't think of any other toys that she has that get her moving and grooving like these dolls do.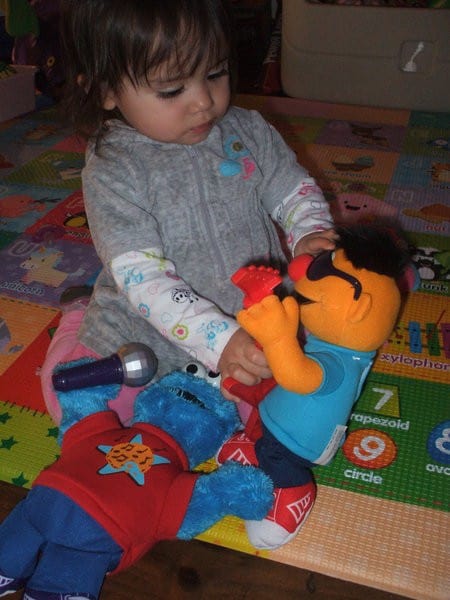 The only negative thing that I can think about regarding these two Playskool Let's Rock! dolls is that unlike the Let's Rock! Elmo doll, they are smaller in size.  And, you have to continually push the microphone towards Cookie Monster's mouth, and the strum the guitar of Ernie with his hand, in order for the music to continually play.  Savannah has a hard time getting the Ernie doll to sing and play the guitar as you really need to pull down on his hand, making sure he rubs against the plastic guitar. It took me a few demonstrations in order to show her how to make these two characters come to life.  But, once she got the hang of it, it got easier over time.  I am surprised at how well she has taken to these new Let's Rock! dolls from Playskool, as she brings them wherever she goes.  I am guessing this is because she likes the smaller size, making them easier to carry around.  There were a few instances when she had the microphone right up to Cookie Monster's mouth and he sang really loud, startling her.  But, I told her to keep the microphone at a distance to lower the volume of the singing, which made a big difference.
Did you get your little one a Let's Rock Elmo doll this past holiday?  If you did and don't have the Let's Rock! Cookie Monster and the LET'S ROCK! Strummin' Ernie dolls, why not surprise them this Easter with these two toys.  At only $19.99 each, if purchased from either Playskool's online store, or Amazon.com, they would make for an affordable holiday gift.  Here are just a few photos of Savannah interacting with her two Sesame Street pals.
So, what are you waiting for?  Head on over to the Playskool website today and order these cute toys, to get in time for Easter.  In addition to ordering online, you can also buy them at Toys R Us and other major retailers.
–BUY NOW—
Click here to order the Let's Rock! Cookie Monster  or LET'S ROCK! Strummin' Ernie toys directly from Playskool's online store, for only $19.99 each.
Disclosure:  I was sent samples from the vendor in order to write up an honest review.  The views above are mine and mine alone.
0