As many of you know by now, photography is my new passion.  I am by no means a professional, but I find that it is such a rewarding hobby.  When I found out that we were going to be adding another little bee to our hive I immediately started thinking about photography and birth announcements.  Through my online searches I kept running across the cutest cocoons for newborns.  Most of these cocoons are made out of cotton, but some are hand crocheted.  These are the ones that I was dying to try out.  I briefly thought of trying to crochet my own, but am only a beginner and realized that this would probably be a disaster.  Then, I ran across Polka Dot Posh.  I INSTANTLY fell in love with this Hanging Stork Cocoon.  How could you not love this!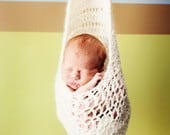 Needless to say, I was thrilled when the owner, Cassi, agreed to work with me.  She sent me the much loved, drooled after, hanging stork cocoon.  She was super easy and friendly to work with.  I have worked with a lot of Etsy sellers, and she was by far the most professional and efficient.  I would not hesitate order from her again.  Once I received the Hanging Stork Cocoon, I fell even more in love.  The yarn that the cocoon is crocheted from is super soft and luxurious.  I like that this cocoon is made from a natural colored yarn.  I think this color is best on all newborns and just seems more organic.The quality was fa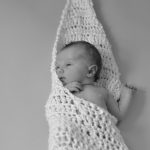 ntastic (so glad now that I didn't try to make my own!).  Now I just needed to find a baby to test this thing out on!  I borrowed my friends little girl for the job.  What a great little model she was!
The concept is really simple. Just tuck the baby in the cocoon while she is sleeping and have someone hold the cocoon by the top knot (just barely off the ground).  Then just snap away to your hearts content until you get "the" photo.  Unfortunately, my little model was WIDE AWAKE during this shoot.  Had she been sleeping, I would have been able to really tuck her up into the cocoon to get that perfect, curled upshot.  Regardless, your photos will come out gorgeous.  We just improvised by lying the cocoon on the ground and by having mom support baby in front with her hand.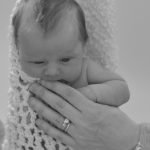 Like I have mentioned before, you don't need a lot of fancy equipment to get a professional looking photo.  Just play around with your camera, even a point and shoot.  My number one suggestion is to find an area with LOTS of natural light.  The one thing that will ruin your photo is a flash.  Avoid this at all costs.  Find a neutral background, a sheet, large blanket or wall and shoot away.  Try different backgrounds, like a window, or drape a light colored sheet over a chair and use that as the background.  The great thing about photographing babies is that your backdrop does not need to be tall.  Drape fabric over any object and it should work fine.  Get on the floor and shoot your subject at eye level.  Try it, you'll be surprised what really great photos you can get!
Polka Dot Posh sells their items on Etsy.  She has a great selection of beautiful photo props, from hats and diaper covers to cocoons and wraps.  She even has a Sale section!!!  I addicted now.  I have a feeling I will  be placing an order very soon.  That's right Teddy Bear Beanie, I'm lookin' at you! 


Polka Dot Posh even has a great blog with product info and some great tutorials for you crafty types!
One very lucky reader will win a $25 ecard to use at the Polka Dot Posh Etsy Shop!
Mandatory Entry:  Leave a comment with your name and a valid email address.  If you don't give me a valid email I can't reach you if you've won!
Extra Entries:
1. Visit Polka Dot Posh on Etsy and tell me your favorite item.
2. Follow me on GFC, Facebook, Twitter or RSS/Email Subscription (+1 each)
3. Share this giveaway on any social networking site  #win a prop @PolkaDotPosh from @mamatomjr @jendpt http://wp.me/p1qA6G-1v9 (can be done 2x day at least 1hour apart)(leave URL of your post please!! hint: right click the time stamp!!) 2x/day at least 1 hour apart
4. Leave a comment on any non giveaway post +1/post up to 5 comments
This giveaway will end on June 18, 2011 at midnight, EST. US only. Winner to be chosen randomly. Winner has 48 hours to respond to my email or a new winner will be chosen.
I received a sample of this product to facilitate my review. All opinions expressed are my own.[ad#glam between posts][ad#glam between posts]
0