Summer is full of so many things to do outside  when the weather cooperates- but for those days when the weather doesn't cooperate and we do have to be inside, crafts and games have been the first things I turn to.  My kids will all three of them sit at the table and color, glue, use stickers, you name it- they love crafty things.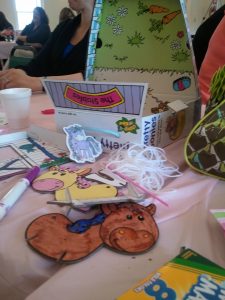 Pressman Toy's Pretty Ponies is a creative cardboard set that's fun to color and design, and with ribbon and yarn you can change the ponies' looks whenever you want, plus, the storage container doubles as a pony stable so your little one can play ponies to her (or his) little heart's content.
The ponies are fun to color- you can make the legs any color you want, and they are interchangeable too so you can give the brown pony the legs from the yellow one and vice versa.  Lots of options.  The ponies also have some parts that sparkle, and we all know how important sparkles and glitter are in art creations!!
This kit was awesome at a baby shower for one of my friends, that my oldest came to, but she didn't know anyone else- so I pulled the kit out with some brand new markers and had one very, very happy little girl for a very long time.  Threading the "Manes" and "tails" for the ponies isn't that easy for her- but I always struggle with threading needles and stuff myself so that isn't surprising.  This is such a cute set and very versatile!
Get your ponies ready for the big show at the stable! Create colorful manes and tails. Color the ponies on your own, or use the pre-decorated side and start playing right away. A great craft for solo fun or play with friends. The box folds out to become the perfect display.

Contents: 3 craft ponies, pony jump, wool/ribbons/beads/stickers, box play scene with double-sided display panel, 5 coloring sheets, dowel, instructions.
(Crayons not included)

For ages 4 and up.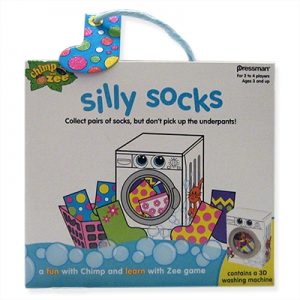 Silly Socks from Pressman Toy is a really cute game that my almost 4 year old simply adores.  Of course, this is a game that involves underwear, so that kind of makes it an automatic hit with the preschool crowd, because as we all know, underwear is FUNNY STUFF.
I love the thick, durable cardboard pieces for this game, the generous sizing, and the simplicity of play.  The games go quickly, and don't drag out- which is great if you are short on time but also, more importantly, lets you get several rounds in if you have the time and offers a good way for kids to get used to not winning all the time (yes, I am openly admitting that I do not believe my kids should win games every time. ) and not dwelling over things too long.  Its fun, its cute, the pieces are brightly colored and easy to manipulate.  I work on color identification with my almost 2 year old with the pieces as well, and sorting- so this game is a bit more versatile than the folks at Pressman Toy perhaps intended!?
On your turn take an item from the washing machine. If it's a sock that matches one of your own, put the pair in your laundry basket. But if you pull out a pair of underpants you'll lose a turn. The first player to collect three matching pairs wins.

For 2 to 4 players, ages 3 and up.

Contents: Washing machine with plastic door, 4 laundry baskets, 32 socks (16 pairs), 4 pants, rules.
One of my readers will win their own Pretty Ponies set and Silly Socks Game!
Mandatory Entry: Leave a comment with your name and be sure to include a valid email address in the comment form!
Extra Entries:
Follow Pressman Toys  on Facebook.
Follow me on GFC, Facebook, Twitter or RSS/Email Subscription (+1 each)
Tell me something else you'd love to try from Pressman Toys!
Share this giveaway on any social networking site (leave URL of your post please!! hint: right click the time stamp!!) #win Pretty Ponies&  Silly Socks @pressmantoy #game #craft #toy  from @mamatomjr https://www.thismamaloves.com/?p=10775 (can be done 2x day at least 1hour apart)2x/day at least 1 hour apart
This giveaway will end on August 24, 2011 at midnight, EST. US only. Winner to be chosen randomly. Winner has 48 hours to respond to my email or a new winner will be chosen.
We received a sample of this product to facilitate our review. All opinions expressed are our own.
0