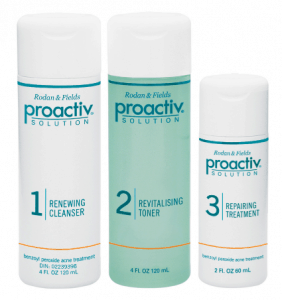 I am 37 years old, and with each year that passes I feel like my skin gets worse. I have had breakouts and acne more now than I did in my entire high school career. I don't like it. Not at all. This combined with me actually working out and running at least 3 times a week is doing a number on my skin, particularly in the "T-Zone" areas.  My chin and my forehead are, in the words of my 4 year old "just yuck."  I recently got to try out a month supply of Proactiv solution to try and make the skin situation clear up. 
Proactiv 365 offers many benefits- including expert skin care available 24/7, 365 days per year.  Their support system is what "sells" me on this product, because its personalized and truly comprehensive.  Being able to confer with skin care experts and ask questions and get answers – individualized answers- really helps you feel like you are getting a skin care system that will work for you. 
The product itself works well- I mean, I can't imagine there are too many adults walking around the USA who haven't seen SOME kind of advertisement with celebrity endorsement for Proactiv, but the product itself does work well.  I have heard  many people in many places from many walks of life who have used and loved this product so when I had the chance to try it I decided to go for it.  They are confident in their product and stand behind it with a 60 day money back guarantee.  
The Proactiv products are surprisingly gentle to my skin.  I always think that for anything to "rid" me of acne or pimples that it has to sting or feel harsh…but it doesn't.  Happy me.  I like the different options you can choose for shipping and delivery for proactiv- monthly, bimonthly, etc, and you can tailor what comes to YOUR needs.  That's kind of cool.    
Expert Skin Care Advisors on Call

To help you achieve your best results possible and whenever you have a question, you can consult a doctor-trained Skin Care Advisor for valuable one-on-one guidance. Trained by our founding dermatologists, Drs. Rodan and Fields, our Skin Care Advisors are ready to hear from you via toll-free phone, email or online chat, 24/7/365. So, whenever you have any questions about your Proactiv regimen, or any other questions about our products, our Skin Care Advisors are available to help.
Free Online Consultations with Drs. Rodan & Fields

Our unique interactive Online Consultation offers you customized assistance from our founding dermatologists, Drs. Rodan and Fields. Based on your input, they can advise you on everything from skin dryness to occasional blemishes to acne breakouts. Whatever your concern, the doctors can help guide you to the skincare approach that's just right for you. We want to help your skin get clear and stay clear.

Comprehensive Q&A Information Source

Enjoy free access to one of the most comprehensive and reliable sources of acne information available — more than 500 question-and-answer topics in a well-organized and easily searchable format. Drs. Rodan and Fields give you the benefit of over 40 years combined experience concerning prescription acne medicines, acne myths, alternative therapies, the effect of hormones and diet, and more. Find Answers now.

Customized Just for You

Because skin care concerns are unique, our Skin Care Advisors can help answer your questions and customize your regimen, making it easy. Together we'll help you achieve your best results possible.
The Secrets to a Lifetime of Clear Skin

First-time Proactiv customers receive a free 68-page pocketsize book, The Doctors' Secrets to a Lifetime of Clear Skin, by Drs. Rodan and Fields. Inside, you'll discover 30 nuggets of vital skin care wisdom to achieve the best skin of your life. A must-read, full of helpful ideas.
So, after a month or so, I'm happy with the products.  I'm not perfect about using them every day and my skin isn't 100% cleared up but its definitely better than it was- and I'm working out (and therefore perspiring more) than I was even a month ago…so that makes me happy. 
I wrote this review while participating in a campaign by Mom Central Consulting on behalf of Proactiv and received product samples to facilitate my review and a promotional item to thank me for taking the time to participate."