This post about Neutrogena Beach Defense Sunscreen is sponsored.  Opinions are my own. We're outside all day, every day in this family.  We go through a LOT of sunscreen.  I think that as of today, July 2, we've gone through 4 full containers.  We put it on before everyone gets dressed and reapply throughout the day, particularly on days we're in and out of the water a lot.  That, paired with the kids wanting to apply their own for the most part, means we go through sunscreen like crazy.  I'm finding that while I am better about using sunscreen (back in the day, I was a suntan OIL user), I'm not liking the kids' sunscreens, and I want something made for adults.  I'm intrigued by Neutrogena's Beach Defense Sunscreen and hoping to give it a try very soon.  I have to be extra careful to protect myself from the sun given all of the reckless and stupid things I did to it when I was younger.  All of the "tanning" tricks you have heard of, I'm 99% sure I've tried.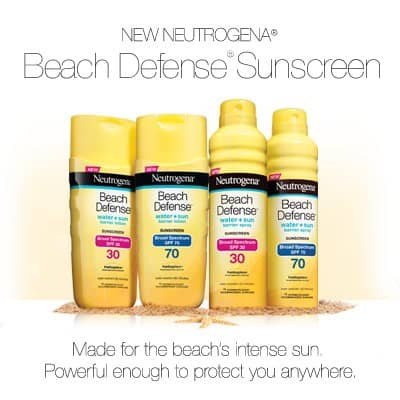 When you're outdoors in the intense sun all summer long, keeping your skin safe can be challenging. But now, superior protection is now available at an affordable price! Available at Walmart, all-new NEUTROGENA® Beach Defense® features Helioplex technology that provides beach-strength UVA-UVB defense from the sun's most damaging rays. NEUTROGENA® Beach Defense® is lightweight, fast absorbing, oil and PABA free and is water resistant up to 80 minutes! Check out this #1 dermatologist recommended brand at Walmart today and keep your family protected all summer long!
Let the CLEAN & CLEAR® and NEUTROGENA® Brands help pay for your Back-To-School Essentials! Visit Walmart.com/Neutrogena and play for a chance to win a $250 Walmart Gift Card courtesy of the CLEAN & CLEAR® and NEUTROGENA® Brands!!
 One reader will win a $25 Walmart Gift Card plus a full sized Neutrogena Beach Defense of their choice!
0