This post brought to you by PULL-UPS® Night*Time. All opinions are 100% mine.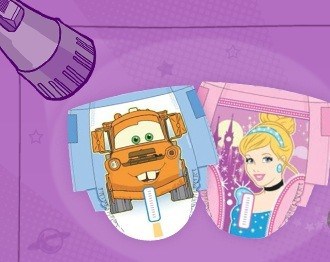 Bedtime isn't always the easiest time of day around here.  Especially with 2 kids who don't need any nighttime wetness protection my little one does not like having to wear anything but her underwear to bed.  We have noticed that things go a little bit smoother when we use FUN training pants, especially ones with her favorite character friends on them.  The new PULL-UPS® Night*Time Glow in the Dark training pants have added absorbency for total nighttime protection.  Plus, who doesn't love glow in the dark stuff?
Without fun training pants, bedtime is kind of like this: Brush teeth, potty, wash hands, freak  out at the mere mention of having to wear a diaper or training pant.  WITH fun training pants, it's smooth sailing.  Cinderella calms her world, what can I say?
One thing I really am happy about is that more and more I'm finding night time products available for smaller kids, with the more "big kid" designs.  My little one isn't 30 pounds yet, and diapers are too "babyish" for her, but she definitely isn't ready for underwear at night.  Being able to at least wear big kid training pants makes HER a lot less resistant at bedtime, and makes everyone's routine go smoother.  The PULL-UPS Night*Time come in Cinderella for girls and Lightning McQueen and Mater for boys…which is perfect for my little one because she is in full princess-obsession mode right now! They come in 2 sizes: 2T-3T (18-34 lbs) and 4T-5T (32-40 lbs) Of course she's also been a huge fan of Mater since she first saw him on TV so she'd be happy to wear a training pant with him on it as well.
"Charge up" the PULL-UPS® Night*Time under a bright light for at least 30 seconds and then turn off the lights. Surprise, they GLOW!!!
Did you know you can head over to check out PULL-UPS® Night*Time Glow in the Dark page and while there, you can create your own fun and entertaining Glow Show Story, perfect for bedtime, and enter for your chance to win a $100 Walmart Gift Card!  You can enter as many times as you would like and new stories will be created regularly. Winners will also be announced on the PULL-UPS® Night*Time page.
Save on your next purchase with a $1 coupon OR share the offer and increase your coupon to $2!  
0