This is a sponsored post written by me on behalf of Reading Eggs, a website designed to help children ages 3-13 with reading and literacy skills via games, songs,activities, rewards and more.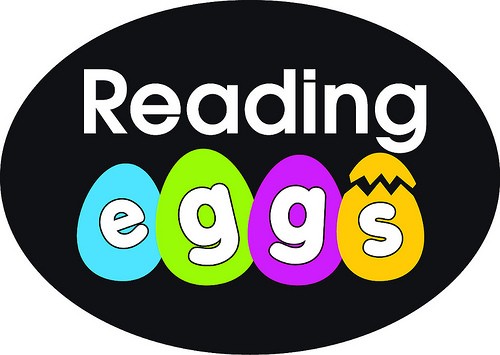 My older 2 kids, ages 8.5 and 6, are both reading now. Little sister, 4 1/2, is very anxious to read like big brother and big sister.  She's very, very close to reading and can read a few sight words, but shes not quite there yet.  She's been really excited to check out the Reading Eggs website.  (Especially because she gets to use Mommy's new desktop that has a 'magic' monitor that can come off the stand and go around the house!)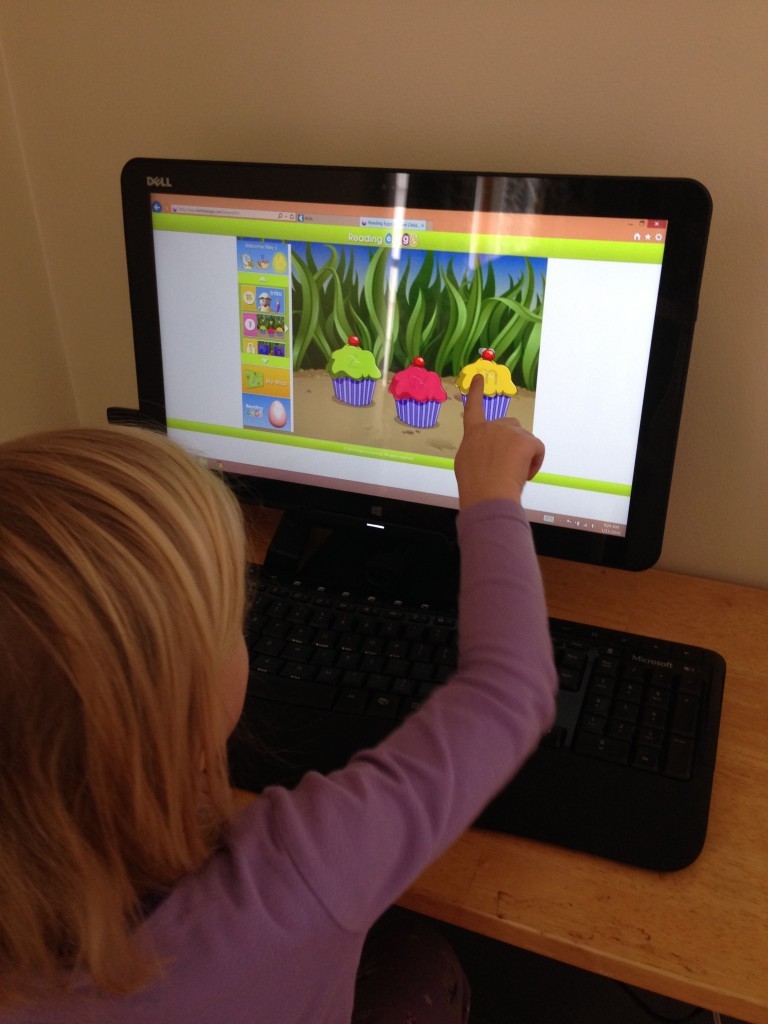 I have had a love of reading since I was a little girl, still a toddler. I haven't ever felt like I'd read "enough" and so far, my kids seem to be following in my footsteps.  My husband's never been a big reader, but with 4 book lovers in the house, he's come to love reading and has actually started reading for enjoyment.  I feel like literacy is one of the most important skills anyone and everyone can have.  I'm not sure how I could function without literacy.  And, in my opinion, the earlier literacy begins, the stronger the understanding is for the rest of your life.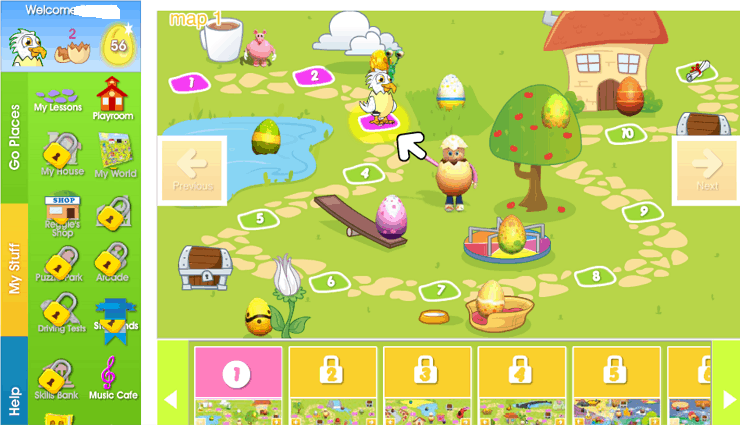 With Reading Eggs, kids are given some questions (if they choose) to assess what levels of instruction they will need.  They can skip the assessment tools and just start going into activities, songs and games.  For my little one, we did the assessment because I wanted to make sure she's not doing thing that are too far above her skill level that will frustrate her, but also not so simple for her that she's easily bored.  The assessment took just a few minutes (for both the Reading Eggs and MathSeeds assessments), and her lessons map (shown above when she'd first started).
That kind of sounds like school. It really isn't. Once you've finished the assessment tools, kids are kind of free to navigate the site to play, learn, explore and while they are doing all of the fun activities, not only are they learning, they are also earning rewards to play other games and unlock fun new features. My bigger kids haven't been 'unleashed' on Reading Eggs yet, but they will be starting to do their activities today as promised.  I will always prefer anything electronic that offers educational components to the alternative, so having them excited to play these games online makes me happy. The cool new desktop helps get them excited.  They are all convinced it's magical.  Who am I to contradict that?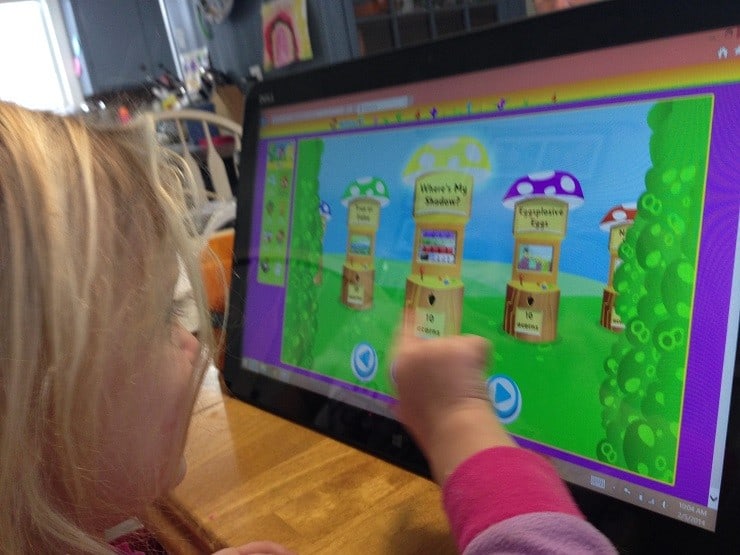 Want to try Reading Eggs at your house? Sign up for a  FREE five-week trial of Reading Eggs. No credit card required. 
Reading Eggs makes learning to read interesting and engaging for kids, with great online reading games, activities and over 1000 eBooks online. Developed by a highly experienced team of educational teachers, writers and developers, the program focuses on a core reading curriculum of phonics and sight words using skills and strategies essential for sustained reading success.
Reading Eggs now has 120 big lessons. These 120 lessons are perfect for 3 to 7 year olds who are learning to read. Reading Eggspress is perfect for 7–8 year olds who already know the basics of reading but who still have much to learn about reading, writing, spelling and comprehension.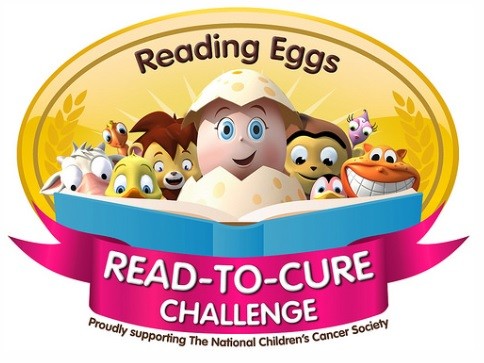 Reading Eggs is hosting the Read to Cure Challenge to raise funds for the National Children's Cancer Society. You can access Reading Eggs and take part in the Campaign for FREE. Sign up for your FREE 5 week trial now and from February 3 to March 7 of 2014, for each book read and Reading Eggs lessons they complete, they are entered to win prizes.  Friends and family can sponsor the kids' efforts and Reading Eggs will match every donation up to $25,000.  I know we are planning to sponsor each of our kids- it's a win win for everyone.  Funds are raised for the NCCS, the kids improve literacy and parents know the kids are spending some time on electronics learning.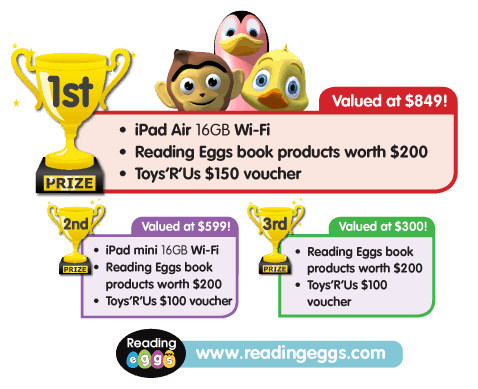 The giveaway will be open on Monday, January 20 and end Friday March 7, 2014.
One winner will be selected to receive one (1) iPad Mini valued at $299.99,
To enter the giveaway, entrants must register and activate the 5-week free trial on the Reading Eggs website between 1/20/2014 to 3/7/2014 with their name, child's name and postal address.
a Rafflecopter giveaway

This is a sponsored post written by me on behalf of Reading Eggs.
0