What do real dads do?
They do a lot.
There's a discord in our society that shows men not doing much with kids far too often.  Most of the men I know (and none are imaginary) are pretty involved in the care and emotional well being of their families.
Real men do hug.
Real men do kiss.
Real men do hair.
Real men do get upset when someone hurts their kids' feelings.
Real men do have feelings.
Real men do play dress up.
Real men do NOT babysit their own kids.
Real men do babywearing.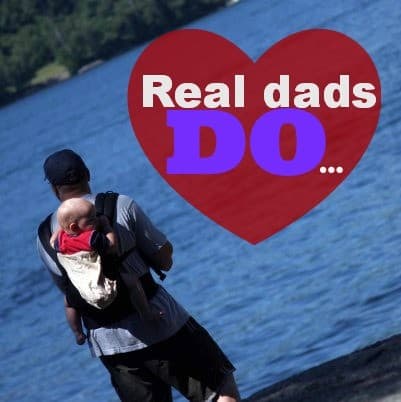 Real men do chaperone field trips.
Real men do… and do…and do… and do.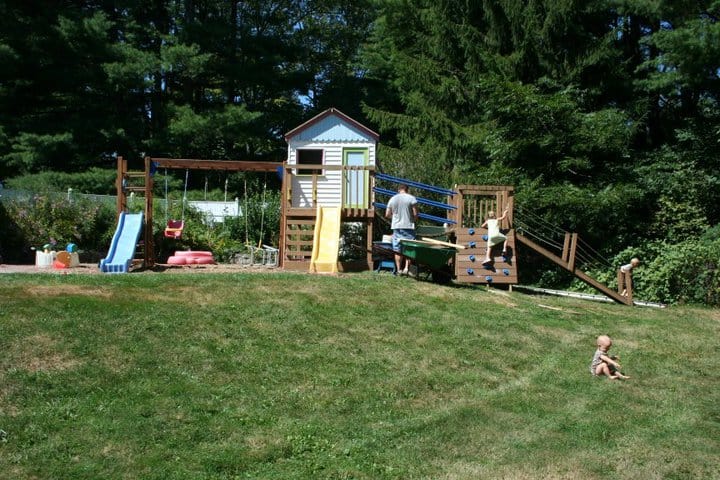 I'm so tired of putting a whole bunch of emphasis on what a group does vs. what another doesn't.  Maybe if we stopped spending research dollars into what men do and don't do as fathers and use those dollars to help educate those who may not know or understand, we'd be in a better place.  It seems like we've gotten to this place where seeking out differences and negativity is the norm, and it makes me sad.
My husband isn't perfect.  He's not.  (I hate to tell you this, but no one is perfect. I just want to make that clear 🙂 ).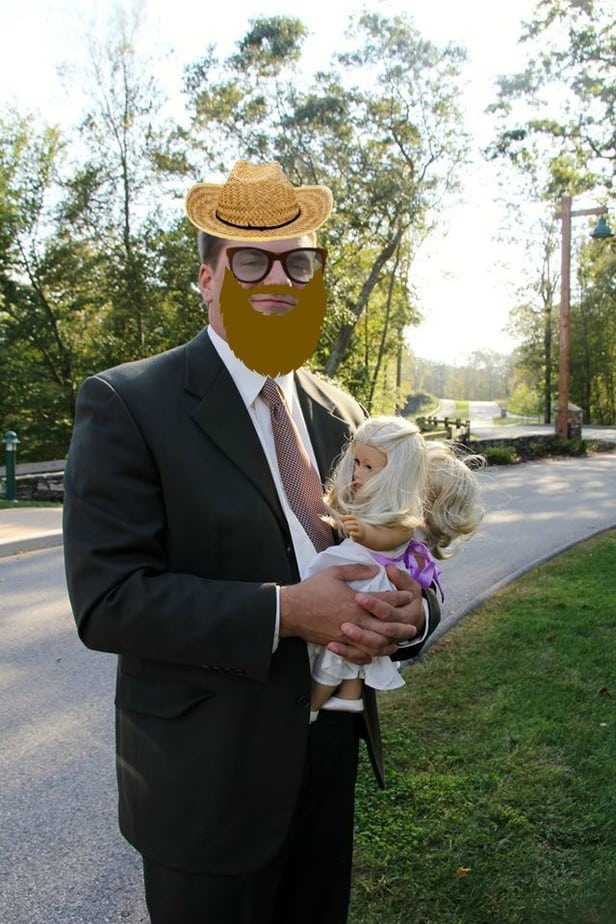 But he is a real man. And he's a very real, very hands on dad.
He's been an amazing provider for our family for many years as the sole income.  He's taken care of this house and it's upkeep, and he's also taken care of a wife who lost her mom late in a pregnancy that spiraled into very high blood pressure, premature birth and a very depressed mom of a newborn.  He's a real man.  He's done what he needed to do because it needed to be done.
There's no manual for being a dad. Yes, I know there are manuals. But for good and bad and everything in between, we're all different, and there is no one size fits all answer or manual for parenting.
I feel SO BLESSED.  So very, very blessed, that so many of the dads I know are real men who do so much with and for their children.  It seems to me like the men in our day are a lot more emotionally involved in the dad thing than our society gives them credit for.  That's why when I was asked to take part in this campaign I didn't hesitate to say yes. The Dove Men+Care 'Calls For Dad' film spotlights the expanding and often unrecognized ways fathers care for their children.
My husband was the first to change all 3 of our kids' poopy diapers. With our oldest, he'd actually never changed a diaper before.  Is it his favorite thing?  Absolutely not.  Did he do it?  All the time.  Even when I changed to cloth diapers, his only comments were to find out how the different systems worked so he could get the diapers on correctly.  He has gotten up when the kids are vomiting and grabbed cold water or popsicles from downstairs when they are sick.  It was my husband who figured out that our oldest had an ear infection for the first time at 4 months- having been up with her for a few hours he had a hunch and snuggled down with her in the recliner. He's pulled splinters, had tea parties, done pony- and pig-tails and has packed overnight bags. He's stayed home from work for 5 days and stepped in to fill MY shoes when I was too sick to get out of bed, even when that meant 3 trips to gymnastics, picking up girl scout things, and having to figure out a week of meals with nothing to go by. He did it and kept the kitchen clean.  (He also learned that it's almost impossible to do it all AND keep the whole house clean….)
Dove Men+Care is committed to portraying how real men care
(The following are from the 2014 Dove Men+Care Dad Portrayal Research Study (Survey of 1,000 Fathers) and are, in my opinion, reflective of the times and really quite sad).
Three quarters of dads say they are responsible for their child's emotional well-being, while only 20% of dads see this role reflected in media
Only 13% of dads believe the media portrays fathers as responsible for childcare
3 out of 5 dads say the media portrays them negatively (61%)
Nearly all dads (97%) say they are involved in their child(ren)'s life and 7 in 10 see themselves as highly involved
An overwhelming majority of dads (94%) prioritize their families over their careers
Dove Men+Care understands that dads' role as caregiver is often unrecognized and is sharing real, authentic moments of care just in time for Father's Day
Features real dads and their kids
Dove Men+Care has a full line of grooming products specifically designed to care for men's skin, face, hair and underarms. My husband uses several of their products and has been quite happy with the performance.

 
Watch the "Calls for Dad" film and then share your family's #RealDadMoments with @DoveMenCare