This post sharing my reflections and gratitude about this blog was inspired by and is sponsored by the 5th birthday of the SITS Girls! Opinions are my own.When we became pregnant with our oldest daughter, we decided I would stay home full time. We knew going in that it would make for tightened wallets and a lot less doing "things" but ultimately, it felt right for us, and we knew if it didn't work out I could find a job down the road.  A luxury, for sure, but a carefully calculated one and we just lived very modestly for several years. Every day, even the hardest ones, was something to be grateful for, even now, looking back. We wouldn't do it differently.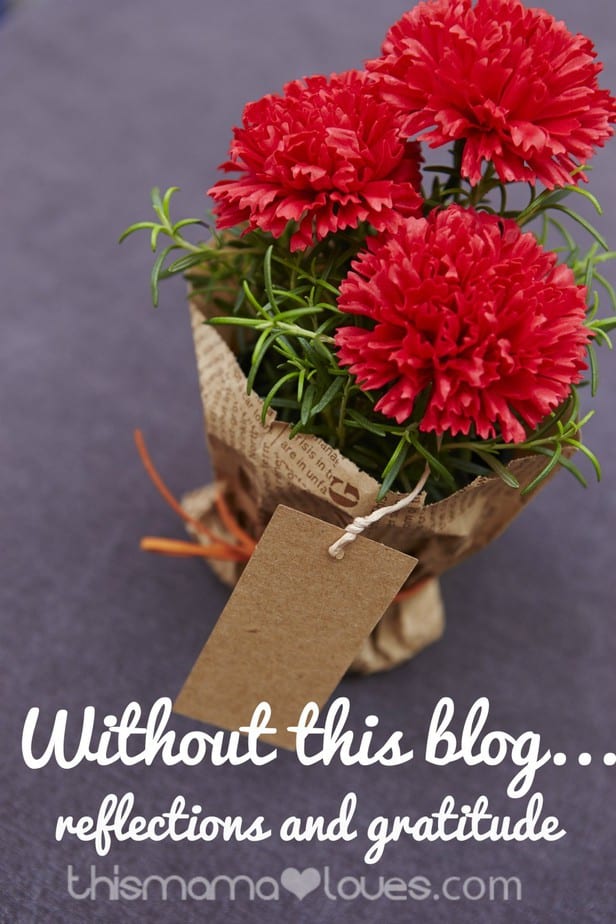 As time went on, I found a (very) part time job working for our town taking meeting minutes for the various boards and commissions.  I'd attend the meetings and have a week to submit the written minutes to the town via email. It was perfect- most meetings even started after the kids went to bed…the commute was 3 minutes and I could finish minutes during naps or after bedtime. It was a nice way to boost our family income, even if it wasn't a lot. Every little bit helped though!
Then I kind of fell into blogging, although when I started I was totally clueless and had no idea what I was doing or where I wanted things to go… and after about 18 months of that, I started to actually make a little bit of money.  For the girl who "fell into" blogging with  no clue, I will forever be grateful that I did…and that I stuck with it, realized what I wanted to do with it and where I wanted to go with it, and stuck with it.
Now I'm 6+ years into blogging. The income has turned into an actual income that I can not just help to support our family with, but also to help others with, and allow us to do and experience things that otherwise wouldn't have been possible. I've made some amazing friends, connections and business partnerships along this journey that have brought so much into my life, and I'm so thankful for that, because…
Without this blog…
We wouldn't have passports.  Nor would we have passports with stamps in them from new places we've visited and created memories. My husband and I had our first time away from the kids thanks to this blog, and our family went to Turks and Caicos last year- truly wonderful, but doubly special as it was one of my parents' favorite places in the entire world to visit and we were able to bring the kids to see it.
I wouldn't have a way to work from home (not the way I am able to now!)- the partnerships I have, with brands, PR firms and networks like SITS Girls and Sway Group– they really and truly make this all possible for me to do so. I've been working with groups like SITS Girls for 5 years now- a long time and an established working relationship. Working with networks really has helped me to be able to continue to learn my voice and find ways to support my family through the blog. Not just me, but my team – because we are in different areas with kids of different ages, we're able to cover all kinds of topics and products with an authentic voice. It's nice to not just have me be able to work from home but also to help other moms like me be able to work from home.
I couldn't be working for myself, and being the one to ultimately decide yes or no on projects wouldn't be possible. Having a team of contributors who can help to run the blog wouldn't be possible.
I wouldn't have discovered some of my passions. I hadn't realized until I had a few campaigns just how much passion I have for history- for our American history- and how much I love to talk about it. Or my passion for helping others (and myself) find ways to make today's crazy family life manageable and still have dinner together at night. I don't know that I would have ever realized that I had a passion for blogging- for my own blogging and for others.
It's pretty safe to say I wouldn't know much of what a Twitter Party was or how much fun it is to party with hundreds or thousands of total strangers from all over the place right from home in pajamas- nor would I imagine that I could get paid to be the one in charge of the party! I might know what Pinterest is, but I probably wouldn't have a full understanding, and I definitely wouldn't be using Pinterest as a way to help support my own business/blog!
Without this blog, would we be ok? Yes. Would we still have a lot to be thankful for? Absolutely. Would we be where we are today? Maybe, but things would likely be very different and the odds of me working from home are slim.
Without this blog, life would be oh so very different. I'm feeling lots of gratitude for this blog and all that comes with it today! Are you a blogger? What does your blog help you do? 
This is a sponsored post written on behalf of Sway Group.