A fellow mom and blogger, Christy, emailed me last month to see if I'd be interested in checking out her ReNewell Body Care line, a line of body products she creates and sells in her Etsy shop.  Being a lover of body care products, Etsy and smelling nice, I jumped at the chance.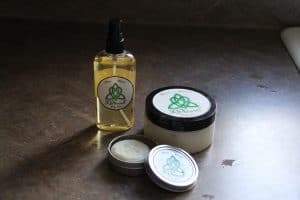 A few days later, a box arrived on my doorstep with the ReNewell Body Care Gift Set (Mineral Salt Scrub, Massage Oil & Solid Lotion Bar).  I LOVE this brand.   The packaging is really nice- clean, simple, straightforward, very professionally done.  Opening the packaging had me smiling- a delightful aroma of Brown Sugar & Spice filled the air.
I immediately tried the lotion bar, because I wanted to smell like brown sugar and spice too!!  This was actually my first time using a lotion bar. I'm not sure why I'd never tried one before, but I'm hooked.  I love it.  No mess, cool container, and so portable.  Your body heat softens it to glide on easily, and no mess.  Plus, the kids haven't figured out what it is yet so they aren't using it all up on me!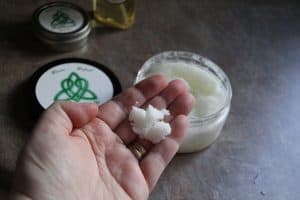 The mineral salt scrub is absolutely delightful.  I love a good salt scrub, although more often than not I end up frustrated and tossing out the containers because I get annoyed that I have to re-mix the product just to have it be the way it should be.  Not the case with ReNewell's Salt Scrub.  It really stays together and doesn't separate, as promised.  Using it just a few times a week makes ME feel a bit more pampered, and it really takes no extra time at all, and it's nice to have products like this to spoil myself every once in a while.
Now that spring is here, I'm leaning towards purchasing some new scrub and lotion bar, in a different scent especially since Christy was kind enough to give my readers (and me!) a 20% off discount that will be live 30 days from today (March 21, 2012!).  Use code: TMLHBMAR12 to save your 20%.  My only dilemma?  Which scent to choose…
Mineral Salt Scrub: Exfoliate, exfoliate, exfoliate – it is how we help our skin feel fresh and renewed. This blend of natural salt crystals will polish and scrub off what you don't like to reveal the skin that you'll love! Not only will this scrub provide thorough exfoliation but it will leave your skin feeling healthy, incredibly soft and delightfully scented.

Look at this mineral salt scrub- most of the scrubs I've tried are separated and I have to kind of re-mix them before using each time.  Not the ReNewell.  I love it.  It's a really easy way to feel pampered in just a short time- a few quick spritzes with the massage oil after my shower and I'm feeling luxurious!

Tired of your scrubs separating? So were we! We created this formula not to separate.

After revitalizing your skin with this amazing body scrub, follow up with our body/massage oil for the replenishing experience of a complete ReNewell of your skin.

Massage Oil: Relax, hydrate and rejuvenate with this nourishing massage oil. Made with a light, luxurious blend of oils intended to slowly absorb into the skin for a longer lasting massage. Not greasy or sticky. This massage oil leaves your skin with a soft satiny feel. In short this massage oil is happiness from the beginning to end!

Solid Lotion Bar: Your skin will love the rich, protective qualities of solid lotion bars. Beeswax helps provide a natural barrier to the elements, while Shea butter (rich in Vitamins A & E), and almond oil will nourish skin. Heat from your body melts just the amount you want as you rub it in your hands then onto your body where needed to create soft and silky skin. It's portable, comes with a travel friendly tin, and a little goes a long way.

Due to the handmade nature of our products please allow for slight variance in color and weight … you will always get the minimum number of ounces stated on the product.
One lucky reader will win a ReNewell Body Care Gift Set including a Mineral Salt Scrub, Massage Oil and Lotion Bar in your scent(s) of choice!! 

a Rafflecopter giveaway
I received a sample of this product to facilitate my review.  Opinions are my own.