Here's something I bet you don't know about me.  My all time favorite cereal is Rice Krispies.  With milk, without milk, in a bowl, in a cup, out of a baggie…it doesn't matter. I love them.  Rice Krispie treats? Yes, please.  Obviously I love the taste of them, but I've grown to love them even more as my kids have come along, particularly now, as we're back to school and mornings are often rush, rush, rushed.   I prefer when my kids are happy and smiling before school- a good breakfast and an organized mom in the morning helps me with that goal…
Rice Krispies are good for filling bellies, they are easy to serve, and when else does your breakfast "talk" to you the way Rice Krispies do?  With some fruit, they make for a healthy, filling start to a busy day at school or work. 
Besides serving Rice Krispies (which I buy at BJ's because it's more cost effective and I don't run out as soon)– some other tips to make school (or work) mornings busier for moms:

1. Pack Lunches and Snacks the night before. I can't say this enough.  It leaves you time to make and drink some coffee in the morning instead of fumbling around trying to put together a semblance of a healthy, filling snack or lunch. Put the whole lunchbox/bag into the fridge, and you'll save a LOT of your time in the morning.  I try to force myself to do this before bed- it doesn't usually even take me 10 whole minutes- even to do my husband's lunch…but the time and stress saved in the morning makes it SO worth it. 
2. Backpacks/bookbags: Ready to go the night before.  Chances are, the homework's done, and it's easy to check the calendar for any "specials" like library books that must be returned, or sneakers that have to be brought for gym class.  Share day?  Get it ready the night before!
3. Calendars are on our walls, USE THEM.  When I was a nanny, and I won't lie, I'm not as good as I was then, but each person in the family had a color.  So all of their "stuff" was written on the calendar in their color.  So if they were able to read or not, they'd know if there was 'something' for them to remember.  Share (show & tell) days, library, field trips, appointments, scout meetings, club meetings, sports-pictures….all of these things can be on the calendar.  The visual cue can be a reminder not just to us as the parents, but also for the kids to see and help learn to be responsible for their belongings.  
4. I'd love to tell you to set out breakfast table settings the night before, but that won't ever happen in my house.  It would probably make life easier, but with a small kitten in the house, for me?  It would probably make life harder, and messier, because I can almost guarantee that our little Sunshine kitty would be climbing onto that table and knocking dishes off at some point.  
5. If your kids are not "morning" people, try new ways to wake them.  Sing a silly song, make a silly face when you wake them.  Make getting shoes on a "race" to see who can get ready to head out the door first.  I find that if I'm being silly and having fun, sooner or later, the kids fall into being silly and fun, and we have a little less grouchy and a lot more smiley.
Kellogg's® Rice Krispies® cereal and memories go hand in hand. This back-to-school season, spark a moment of joy at the breakfast table with the simple grains of rice you can see and the Snap!™, Crackle!™, & Pop!™ you can hear.
With vitamin- and mineral-fortified Kellogg's Rice Krispies cereal, moms don't need to worry about sacrificing nutrition when getting their family out the door each morning. Rice Krispies cereal is made with simple ingredients and is fortified with 11 essential vitamins and minerals.
Share your back-to-school magic breakfast moments sparked by Kellogg's Rice Krispies on their Facebook fan page.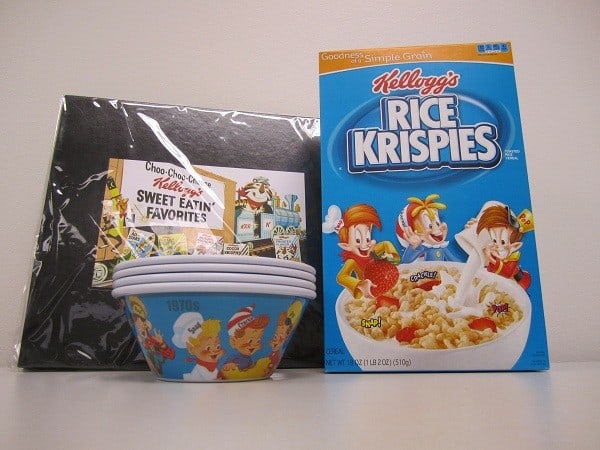 Kellogg's would like to make one reader's mornings a little smoother with a Rice Krispies prize pack:  a box of Rice Krispies cereal, a set of four fun cereal bowls, and a Kellogg's Retro Character Scrapbook Album.
Loading Entry-Form…
…
This is a sponsored post with The Motherhood.
0