My son has discovered the joys of sharp turns that send you flying on his scooter.  He's no longer on a scooter with three wheels, he's moved up to the "big kid" kind, and we've had many new scrapes, bumps and bruises as a result.  I have lost count of how many "Mom! Did you see that?  Wasn't it so cool?" as he flies over the handlebar or tumbles off of the scooter.  He has actually scraped his scrapes that weren't fully healed, and done so more than once.  Given that scooters don't work on grass (at least not well), when he falls, I'm always aware that there's dirt, rocks, and whatever other bacteria and germs that may be on the patio getting into his cuts and scrapes- which as we know can potentially lead to infections.  I'd of course prefer that he just live in a bubble and not do super cool wipeouts, but it's too late for that.  I can't keep him from being active, nor do I want to- but I sure can do what I can to make sure he's safe- he's always got a helmet on, we're very seriously contemplating knee pads for him, and we are sure to have a fully stocked first aid kit nearby.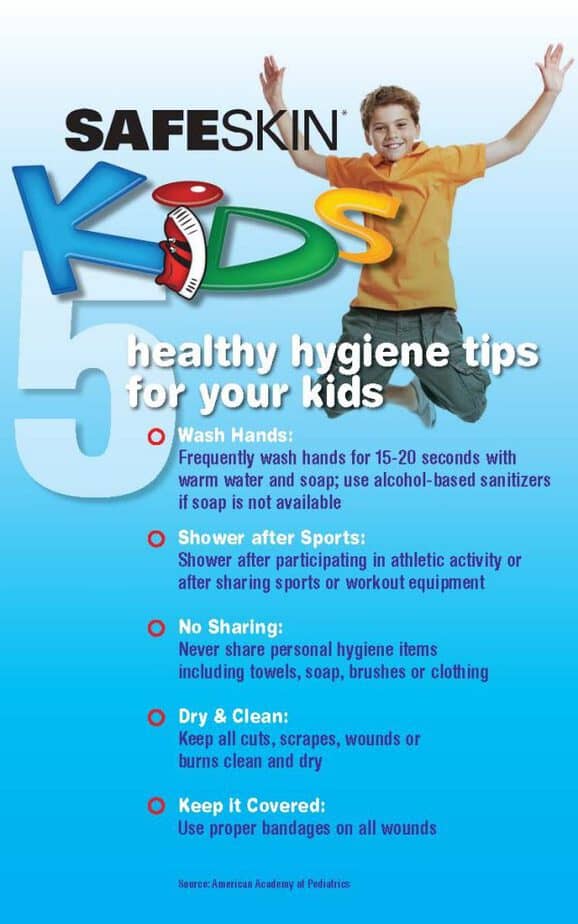 One thing that's definitely going to be in our First Aid Kit from now on is  SAFESKIN* Kids Antibacterial Gel which provides  a barrier to the infection.  SAFESKIN* Kids Antibacterial Gel is a new first aid topical gel (available at select Walgreens for $4.95) that provides a barrier to MRSA and other infections on scrapes, cuts, burns and more for up to 48 hours with a bandage on.  (I could have used this myself when we were doing the demolition of our bathroom last week- if you have never experienced the joys of demolition with a clumsy person, let me just tell you, have a lot of first aid supplies on hand.  I think I used a box of bandages for just me in one day!  The SAFESKIN would have given me a bit more piece of mind that I wasn't going to get an infection of some sort.  The material we were removing from our bathroom was installed in 1946 when our house was built- inches of cement, metal screening, old tile…all combinations that could easily be welcoming bacteria to cause infection.  

SAFESKIN* Kids Antibacterial Gel (from Kimberly Clark Professional) Product Benefits:


Use for topical wound care for minor cuts, scrapes and burns
Provides barrier to MRSA
Antibacterial gel that is antibiotic free
Long lasting up to 48 hours – if the bandaged wound stays clean and dry
Non-greasy formula helps bandages to stay in place better
Fragrance and alcohol free, non-staining patented formulation
Made in United States


Why Children & Teens Are at Risk for MRSA
Caring for the minor cuts, scrapes, wounds, burns and bug bites that children sustain from being active is often a routine task for parents, teachers and coaches. While cuts and scrapes may happen frequently, it's critical that they receive prompt and correct attention as they are potential entryways for infection. Using SAFESKIN* Kids Antibacterial Gel when caring for a wound when it happens will help protect your children from dangerous staph infections like MRSA.

MSRA (methicillin-resistant Staphylococcus aureus) is one of many strains of a bacterium called staph (Staphylococcus aureus) and is resistant to some of the antibiotics typically used to treat skin and soft tissue infections including methicillin and other penicillin type antibiotics such as amoxicillin and the cephalosporins.1 MRSA is highly prevalent in places where children come in close contact with one another like day care centers, playgrounds, locker rooms, classrooms, gymnasiums and sports facilities. Toddlers, children and teens are likely to experience skin-to-skin contact in these places and may share equipment that has not been properly cleaned. Staph infections like MRSA also spread via skin-to-skin contact when playing sports, like wrestling, football, baseball or lacrosse, or from surfaces in gyms and locker rooms like showers, benches and countertops.

Skin Infection Statistics & Children

Rates of Community-Associated MRSA (CA-MRSA), a staph skin infection that affects people in the community, have rapidly increased during the past decades

According to the National Athletic Trainers' Association, skin diseases accounted for 56 percent of all infectious diseases in competitive sports from 1922 through 20053
With more than 38 million children and teens participating in youth sports activities, it's critical that parents, coaches and teachers practice proper wound care.4
In 2009, 71,900 children were hospitalized because of infections under the skin5
Centers for Disease Control estimates there are approximately 10,800 deaths in the United States each year caused by staph infections, of which 5,500 are linked to MRSA6
Skin and soft tissue infections represented 69.9 hospitalizations per 100,000 U.S. children per year from 1996-2006; the rate of CA-MRSA skin and soft tissue infections increased over this period from one in every 100,000 cases in 1996 to 25.5 cases per 100,000 cases in 20067


How to Use SAFESKIN* Kids Antibacterial Gel:
SAFESKIN* Kids Antibacterial Gel is easy to use and should be applied with adult supervision. Always wash your hands or use alcohol-based hand sanitizers before cleaning or dressing a wound. Remove any dirt or debris from the wound if necessary. Wash the wound with lukewarm water and mild soap then blot the injured area dry with a clean towel. Apply SAFESKIN* Kids Antibacterial Gel to the wound and surrounding area. Cover with bandage and repeat every one to three days, sooner if the bandage becomes wet or soiled. A product like the SAFESKIN* Kids SPORT WRAP can help hold a bandage in place. Change the dressing every day.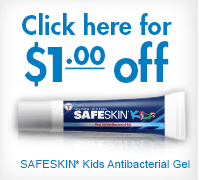 Visit SAFESKIN on Facebook and find a $1.00 coupon to use on the Gel (and the SPORT WRAP!)

I will receive a promotional item and product samples to thank me for taking the time to post.  Opinions are my own.