If you are a mom and haven't discovered BabyLegs yet, you MUST try them out!!!  I used them with my second son as a staple in his wardrobe and plan on using them with my newborn as soon as the weather cools down.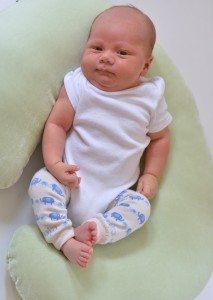 BabyLegs are leg warmers for babies and children.  They come in the most delicious styles and are great for boys and girls!  Those in the cloth diapering community revere them for their ease with diaper changing.  Simply put baby in a cute onesie and coordinating baby legs and you have yourself an adorable little outfit and super simple diaper changes.  Not pants or buttons to fiddle with!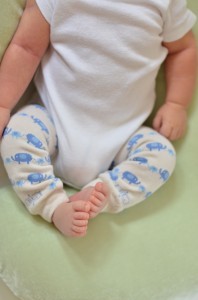 I love them just because they are adorable.  There are so many patterns to choose from.  I must admit that I have become somewhat of a BabyLegs junkie, and love collecting their cute patterns.  BabyLegs was generous enough to send me some newborn warmers to try out.  I chose the Lil' Dumbo pattern which I think is just so cute.  Of course they have the most adorable leg warmers for little girls, including some with RUFFLES.  Oh,  I need to find a little girl to buy these for!  But, I just love that they also have great patterns for little boys.  They make such a great outfit with a plain onesie.
For the crawling baby, BabyLegs are great knee protectors, and for those working on potty training they work great too!  However, I have discovered them also can be worn as sleeves underneath a short sleeve shirt.  Not only does this look super cute on an older child, but I love anything that will extend the life of my children's clothes.  Being able to wear a favorite summer shirt through the fall with a pair of BabyLegs underneath is a great thing!
I have to admit that even I have worn BabyLegs.  Yes, folks it's true.  A few weeks after having my son, I unfortunately broke out in shingles all over my arm.  In order to protect my newborn from catching chicken pox, I turned to a pair of trusty old BabyLegs.  I simply wore one as a sleeve while my sores were contagious.  It worked like a charm.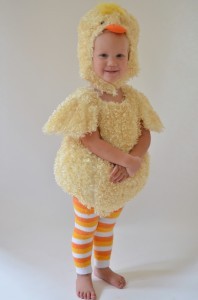 BabyLegs also work as a halloween accessory.  I was also sent the Candy Corn leg warmers to try out.  When I opened up the package I immediately thought, Halloween Costume!  Not only are the yellow, orange and white stripes perfect for a baby chicken costume, but they are fuzzy!  My little guy was so excited to wear them.
BabyLegs makes leg warmers, tights and socks.  They are great for everyday use, for the diaper bag and as a gift.
We also received some of the Falling Hearts footless tights, which are really darling on, and the hearts on the tush that match the patterns on the legs just make me squeal in delight!!  Super cute, and great for those days that are cool but not too much so, so your little one doesn't over heat.  Plus, I like that she's not apt to slip and fall with these tights on since she can have bare feet in them!  (I can't wait for Hello Kitty tights, ok BabyLegs folks?  Maybe for Christmas?)   Like all things from Babylegs, the footless tights are sized to last a while.  My 6 year old can get into these- although she's way too tall- but that tells me that my 2 year old will be in these for a few years at least – which means consumers get their money's worth!  (We all know too well how frustrating it is when brands promote that they size generously and don't.  Babylegs by design are made to last through a good amount of time, so you can enjoy the cuteness longer!!
One of my readers will receive 2 pair of their choosing (based on available stock) of Babylegs!


I received samples of this product to facilitate my review.  Opinions are my own.