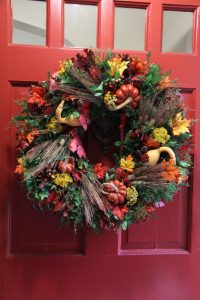 Plow and Hearth has so many wonderful decor ideas for every holiday– including this beautiful Pumpkin Field Wreath that is hanging on my front door.
Isn't it beautiful?  I've had other artificial decorative wreaths before and to be honest, I never spent much on them- and I know now, that you can totally tell.  This wreath is really well constructed, with no gaping holes, and made to last.
The wreath came very well packaged (and like a dope I totally forgot to get a photo of it)- well enough that I saved the packaging down in the basement for storage use.  Easier than finding something else!  I was really pleasantly surprised at how well the wreath was protected in shipment, and I love the aroma when I walk by the front door, especially when a breeze blows through the screen door.  Smells like fall, y'all!
The colors are beautiful on this wreath- so perfect for autumn and all of the beautiful, earthy hues that come along with this time of year (can you tell I love fall?).  I like that it isn't "too" Halloween like, so I can hang this in September and enjoy it until after Thanksgiving when it is time to get my Holiday wreath out. 
Autumn's Harvest Takes Center Stage

Faux pumpkins, squash and acorns nestle in a bed of wheat sprays, green and red maple leaves and caspia to create this fanciful autumn display. Natural twig base.

Size
Approx. 22″ dia.
Plow and Hearth offers a huge variety of wreaths in many different sizes, shapes and color/theme schemes.  I already have my eye on a Lavendar Patchwork Wreath for springtime, and this Americana Wreath for summer.  Had I more doors, I'd have more wreaths.
One of my readers will win a $50 gift certificate to spend at Plow and Hearth!


I received a sample of this product to facilitate my review. Opinions are my own.