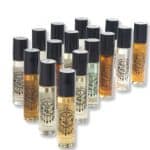 Auric Blends sent me some of their perfume roll-on in Desert Night and MoonLight. I don't wear perfume all of the time but when I do I want it to be #1 subtle #2 lasting and #3 fit my mood and personality. Since my moods can obviously change from day to day, I'm not "married" to one brand of perfume or one fragrance over another, like my Grandma Evelyn was- she wore WindSong daily, for I don't know how many years- which is fine- but I don't always want the same fragrance. I like options and I like them affordable and I like Auric Blends for both of those reasons!! Lots of options, lasting fragrance without being overbearing, easy application and super affordable. You can read up on the different fragrance descriptions and find the one that you think works best for you- or pick several!
Desert Night A sandalwood rose composition accented by muguet, jasmine and soft oriental nuances of musk, woods and amber.
Moonlight An ambery, musky composition consisting of oriental spices, exotic florals, musk, amber, sensual woods and mosses.
With the change of seasons comes the change in clothing, accessories and fragrances. Fall calls for warm, sensual fragrances. Auric Blends has fragrances or every season!
Since 1993 Auric Blends has been captivating women and men with our creative line of fragrance products. Our perfumes and incense are handcrafted and always made from the highest quality ingredients from around the world. We invite you to enjoy what millions of people worldwide have come to know and love as their favorite fragrance line.
Some of the top fall fragrances from Auric Blends are :
Moonlight
Perfume Roll Ons are very affordable at a price of only $7.50 Click to purchase Not sure which one would be best for you? Try some samples! Click here to purchase samples . Find out more about Auric Blends here. You can also follow them on Facebook and twitter for all the latest.
Now we are excited to bring you a chance to have the perfect fall fragrance! Auric Blends has joined with Living on Love and Cents, This Mama Loves Her Bargains, All Aboard the Review and Giveaway Train and Mommy Wants Her Freebies.




I received samples of this product in exchange for this post. Opinions are my own.
0