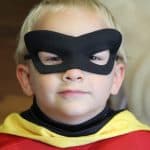 We are clearly ALL ABOUT HALLOWEEN today!!  With the end of September here, and fall finally upon us, we kind of have to be!  If you wait too long you may miss out on the perfect costume, right?  HalloweenExpress.com has thousands of costumes, ideas, decorations and accessories.  Seriously.  Even doing a search for a favorite kid character brings up multiple results, over and over again.  HalloweenExpress.com also carries the amazing Tom Arma costumes which I have drooled over for years (and you have GOT to see Baby B in her Butterfly costume!!).  For this review, though, we picked Disney's Rapunzel wig (can you guess what my 6 year old is obsessed with?) and a Robin costume.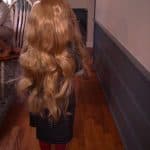 I really wanted to get the Rapunzel costume but my daughter's size was sold out for a while, and I was too nervous to wait.   I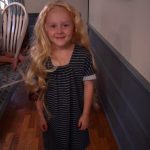 was happy to get the wig, because I think it just will make the costume so much more fun for her to wear for Halloween- and I'm sure dozens of times afterwards for dress up!! I wasn't sure if this wig would be super long but it isn't- its long enough to make her feel like she's Rapunzel but not so long she's tripping over it.  We've had many animated discussions about growing her hair as long as Rapunzel's in Tangled- and one of us is pushing for hair to her ankles.  Even the lock of brown hair hidden at the nape of the neck is on this wig, although I totally forgot to grab a photo and it's in with the girls sleeping as I write this!
My little guy is super obsessed with superheroes and has been asking for months if he can be Robin for Halloween.  This costume is really cute, very comfortable, and the chest muscles?  Hilarious!  I LOVE them!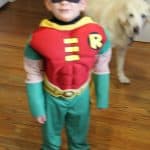 Robin doesn't get enough attention, being a sidekick, so I'm glad my little guy wants to give him some of the accolades he deserves.
No matter what your Halloween style is, you are probably going to find something you love at HalloweenExpress.com!  One of my readers will win a $75 Gift Certificate to use on whatever you want at HallweenExpress.com!


I received a sample of this product to facilitate my review.  Opinions are my own.
0