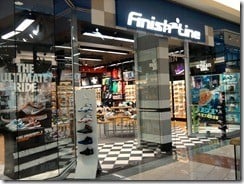 Can you even believe it?  Me, who isn't a runner, or I guess haven't ever been a runner, needed to go to the store to buy running shoes.  For running.  Since I've not done this before, I had no idea where to start or what to think.  I had the opportunity to check out Finish Line at my local mall, and I honestly had a GREAT experience.  My two year old and I were greeted with a friendly welcome, and my anxiety about being the "fat girl" shopping for running shoes were put to rest very quickly.  I didn't really think that they'd laugh at me but man, I was nervous. I've lost a lot of weight already and come far in terms of progress with the Couch 2 5k program but I have a long way to go and it felt weird heading to the mall to purchase running shoes!!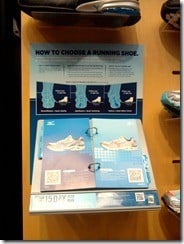 Once we were at the women's running shoe section, I realized, very fast, that there wasn't a way for me to make this decision solo.  There were like 4 sections just of running shoes- different brands, different styles, different colors- oh gosh, it seemed like the choices were endless!!  I did spot this cool little station that can help you narrow things down but honestly, for a novice like me, I wanted serious assistance.  Both staff members working were so nice to us and so willing to help me figure out the best shoes for my needs!! 
The one thing I knew was that I didn't want black sneakers.  That's it, folks.  (I also knew immediately that I needed to buy socks, since this silly blogger totally went to the mall FOR a shoe shop wearing sheepskin boots and no socks…seriously, only me!!).  Once we had that color exclusion out of the way, I was asked how many miles a week I run, what kind of conditions, am I a distance runner (hello, look at me.  But thanks for asking with a straight face, made my day, folks!!).  I explained my biggest concern about my feet having grown so much wider (and longer!! or so I thought) since having my kids and my frustration finding shoes of any sort that fit well and were comfortable.  We measured my foot (it has NOT gotten longer but yes, wider), and my friendly employee, we'll call him Matthew, was off to get me some shoes to try.  While he was gone his coworker, Mary (not her real name) helped me to find some fun running socks (and this is big.  I've never worn anything but white ankle socks for exercise, oh, in my life??) which happened to be on sale (woo hoo!  Sales!!).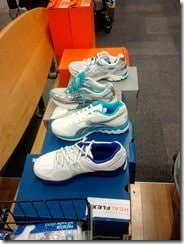 Matthew brought out a ton of shoes for me.  Every shoe he brought out, I think it was 4 different brands, he brought in an 8 and an 8.5 because I was on the "line" for both sizes.  He explained to me why he brought each shoe out, and I tried all but one pair on (the tongue is one piece with the shoe and it just felt weird going on my foot so I knew I didn't like it) – it was such a nice experience being able to ask questions (some of these felt like I wasn't wearing a shoe, others more like the sneakers I'm accustomed to wearing) and have answers right away- knowledgeable answers.    I thought it was great that he brought out four different kinds of shoes- not just brand, but the build and feel and weight of the shoes.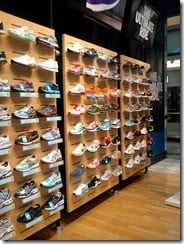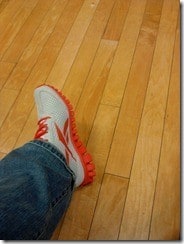 Ultimately, it came down to two pairs for me- and for once in my life I didn't even LOOK at the price tag (I would have) – I was trying to find the right shoe for my foot.  Or, well, my feet.  You know.  So I tried both pair on a few times and walked around, and was torn.   I was informed that one pair was normally $130 but on sale for $69.  I still wasn't sure what to do.   The super cool looking shoes that have pink but 100% look orange from my phone photos? Didn't even feel like I had shoes on my feet.  Light and airy.  Comfortable.  But a change for me.  Or the not-super-cool looking but comfortable and familiar feel shoes that were on sale almost half off….what do do.  I was really happy that the staff wasn't making me feel rushed or that I was bothering them with my questions and all- both Matthew and Mary really seemed to want me to go home happy with my purchase.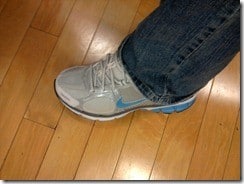 I went with familiarity.  Plus the sale price, I won't lie- it helped.  But mostly?  These shoes WORK for me.  They work for my 35 minute jogs (because I can say that now, almost 8 weeks into this program, that I can jog for 35 minutes in.a.row!!  My 35 minute jogs on the bike trail or on my street (paved) – no extended distances and not daily wear.  This is a great shoe, and I love it.    I  love the shopping experience I had to get these shoes. 
I also have a new favorite place to purchase running shoes.  I think eventually I'll have to replace these, and I may have different needs, and I'm sure I'll have tons more questions.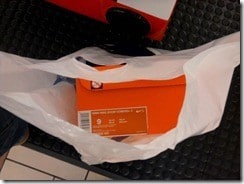 Thanks to Collective Bias  and Finish Line for the opportunity to check out the store and get some new shoes for my feet.  All opinions are, as always, my own.
0