It's November 3.  I'm running out of shopping time.  I know, I know. It's early November, why stress about holiday shopping?  Well, I like to.  That's part of it. But my mom also taught me from day one that you have to shop early so you can shop smart for any occasion.  Of course, she didn't live long enough to benefit as much as I can from the internet, and modern technology.  I recently joined ShoppingPal.com and I have to tell you, it's really fun…you can totally window shop if you want…but you can also add items to your lists and get alerted when they go on sale.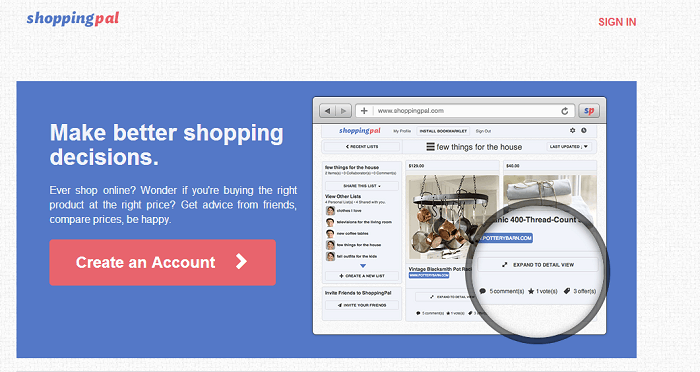 Signing up is really quite simple. You can opt to sign up using your Facebook account, or you can simply sign up with your email and give a password.  Voila. You are now signed up for ShoppingPal.com.  BFF's, if you will.  Plus you can share your lists with your other BFF's and find out if yes! that is the toy she wants, or no! That price is too high!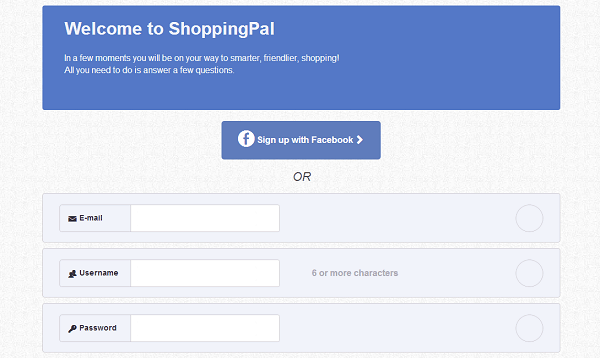 Certain purchasing decisions require a little extra thought and advice..  Shoppingpal makes it easy for online shoppers to organize product lists, compare and monitor prices, and discuss with friends and family the stuff that can't be decided alone..

We noticed that the process of making decisions for many products bought online is not that straightforward. A person might be on gap.com looking at a shirt for their child, but they are not quite sure if there are better alternatives somewhere else on the Web or if they are paying the right price. Until now, people would email back and forth website links to friend or family to get advice, have to search lots of sites to make sure they are paying a fair price, and have to remember to go back to the products they liked to keep tabs on the price.

Shoppingpal was built to be your, well, shopping pal to help any online shopper more easily make good shopping decisions.
Upon signing up, you'll be prompted to either install an add-on or a bookmarklet.  This makes your life simple.  You can start creating a list or a dozen, and that's it.  Now you can peruse the internet to your heart's content, and when you see something that strikes your fancy, simply click that little bookmarklet, and follow the prompts.  In about 4 seconds, your item will be added to the list of your choice in your account, and you can save it, save and share, or continue shopping.  One thing I noticed (for almost everything- some items apparently either don't go on sale ever in this world) was that you can check off a little box to be notified when the item goes on sale for 10% off or even 20% off.  So you don't have to watch the fliers.  ShoppingPal.com can watch for you (me).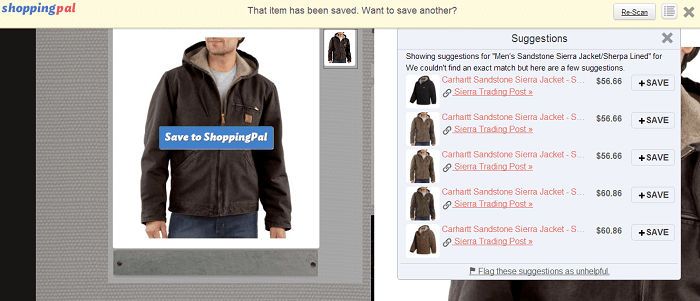 As you are adding items. more often than not, a list of similar or related items will pop up on your screen- this is a really nice feature, say, for someone who has a budget in mind but not a specific item- because they can make a gift basket, themed gift, etc.  Maybe you know a girl who likes Tinkerbell but you aren't sure exactly what else she has for toys.  Now you have other ideas for toys like that- which you can also pop on to one of your lists.
I'm liking ShoppingPal.com so far. I have far fewer toys than normal to purchase this holiday season, as we have a family trip planned shortly after the holiday season and that's going to be the "big gift" for the family, but there are still items I have to purchase and others who may want ideas.  Having my lists here means I can share things easily, and also keep track of ideas I have as I find them- and not have to remember to go digging through my bookmarks to find whatever it was I'd thought "oh that would be a great idea for so and so!" (Please tell me I am NOT the only one who does this?!)  Price watching is never a bad thing in my book, either!
Even if you don't check out the suggested items when you add items to your list, once you are viewing your list(s) on ShoppingPal.com, there's a little ShoppingPal found a few suggestions worth checking out. Review them! That gives you suggested items relating to almost anything on your list.  Even the suggested items can be marked as "keep suggestion" or deleted.  I love buying my kids pajamas for Christmas and I actually had added some Spidey ones to my list, only to find a WAY cooler set in the suggested items.  I'm quite pleased with that turn of events!
ShoppingPal.com would love to send one of my readers a $50 Visa Gift Card (or Amex Gift Card)
To Enter: 
Leave a comment and tell me your ShoppingPal.com username after you sign up, or something you learned about the site not mentioned in my post.
Want Extra Entries? 
*Share this giveaway on any social networking site +1 entry per site per day (leave each URL in an individual comment) 
*Add something to a list in your ShoppingPal.com account (you can do this one time each day for an extra entry each day- just leave a comment below with what you added!) 
*Follow me on Pinterest
*Follow ShoppingPal.com on Twitter
This giveaway is open to US only.  No purchase necessary to win.  One entry per household.  Giveaway will end on November 17th, 2012 at 11:59pm EST.  Winner to be chosen randomly.

0