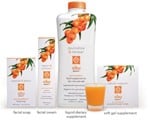 Whenever possible, I prefer to opt for natural products, especially when it is something that goes onto my skin, both for my kids and for myself.  Truth be told, I'm far better about getting products for my kids that are natural than myself, but I'm working on that. Sibu Beauty offers a line of natural skin care products that are affordable to the masses that also work effectively and treat your skin gently.  Plus, they smell really nice.  Bonus for me!!
Each Sibu Beauty product is packed with the maximum levels of Omega 7 and the 190 other bio-active nutrients from the sea buckthorn berry to revitalize, renew, and replenish.  They offer a range of products from ingested supplements to night creams and many in between- at prices that I was very (pleasantly) surprised were not that high.
The thing with the line from Sibu beauty isn't just in the quality of the products- the bar cleanser I have, it works well, lathers nicely and rinses easily- the lotions and creams are thick enough to feel like the recommended amount can actually cover the intended areas, but not so thick you feel like you are slathering yourself with products.  Overall I'm really pleased with these products.  I will for sure be buying the bar cleanser again- I love how it exfoliates (gently) while it cleans.  Makes me giddy!  The "thing" about the Sibu line is the sea buckthorn berry:
Premium, wildcrafted sea buckthorn from the Tibetan Himalayas
For healthy and beautiful hair, skin and nails
High in the Tibetan Himalayas (12,000 feet above sea level) grows a tiny but resilient fruit that resists the harsh weather conditions and high altitudes. The sea buckthorn berry fortifies itself against the elements by producing an array of powerful nutrients. With over 190 bioactive compounds, sea buckthorn is an unsurpassed source of Omegas 3, 6, and 9. And it's a rich source of the elusive essential fatty acid, Omega-7, an essential fatty acid vital to collagen production and healthy skin, hair and nails.
1300 years of beauty
Sea buckthorn is a natural product with 1300 years of traditional uses with the modern scientific research to back it up. Our superior processing techniques and our premium and exclusive source of sea buckthorn allow us to create a revolutionary group of beauty products.
A shared follower of the participating gift guide blogs will win a bar of the Sibu soap, serum and facial cream.
I received a sample of this product to facilitate my review.  Opinions are my own. 
0