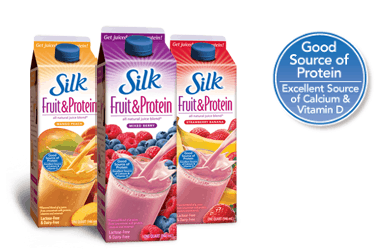 Silk® Fruit&Protein is made with natural beans right here in North America, without genetic engineering.  Chock full of protein, calcium, vitamin D and vitamin C, it comes in three fruity flavors: Mango Peach, Mixed Berry and Strawberry Banana.  Whether you have tried it and love it or are just learning about it, we'd like to invite you to join us at a Twitter party to talk about Silk® Fruit&Protein and how we can incorporate it into a healthy breakfast for our families!
Check out the Facebook page for Silk– they have a tab just for the Fruit&Protein with a money saving coupon and delicious recipes you can try!
Tune in to #SilkFruit from 1-2pm EST on Thursday, April 26!  Twitter party alert!
Looking for some healthy breakfast options? Wanting some variety at breakfast? We will be discussing healthy breakfast options and more on April 26th! Be sure to RSVP below for a chance to win one of three $25 Walmart gift cards or the grand prize of one $100 Walmart gift card!  Be sure to go to the custom tweet grid for our party: http://bit.ly/HO7kH6.
NO PURCHASE NECESSARY. VOID WHERE TAXED, PROHIBITED OR RESTRICTED BY LAW. Subject to Official Rules. Open only to residents of the United States.
Enter by RSVPing for the Twitter party on the link above, be actively participating in the party and are using the hashtag #SilkFruit. To be eligible, entries must be received by 1:55 p.m. EST (5 minutes before end of party) except that mail in entries must be mailed separately and postmarked by April 22, 2012 (4 days before party). To enter without purchase, hand write your name, completed address, age and telephone number on a 3"x5" card and mail it to Collective Bias, 205 S. Main Street, Ste. 1, Bentonville, AR 72712.
Prizes will be limited to 3 $25 Walmart Gift Cards and will be given away every 15 minutes during the 1 hour duration of the party on April 26, 2012. The grand prize of 1 $100 Walmart Gift Card to 1 winner will be given away at the close of the party. All winners will be chosen using random.org from the RSVP link and winners must be present and participating in the party using the hashtag #SilkFruit at the time that they are drawn as a winner. Odds of winning depend on the number of eligible entries received. Winner will be notified via Twitter @ message by @singlemomonabgt  during the party on April 26, 2012 and must respond to @singlemomonabgt within 5 minutes of being selected to claim their prize. All entries will be eligible for any unclaimed prizes after the close of the Twitter party via random drawing held on May 10, 2012 .
To obtain a copy of the Official Rules, send a self-addressed stamped envelope to Collective Bias, 205 S. Main Street, Ste. 1, Bentonville, AR 72712.
SPONSORS: Collective Bias, 205 S. Main Street, Ste. 1, Bentonville, AR 72712
All winners will be chosen using random.org from the RSVP link and winners must be present and participating in the party at the time that they are drawn as a winner.  There is a limit of 1 (one) prize per household during the party.



"I am a member of the Collective Bias™ Social Fabric® Community.  This shop has been compensated as part of a social shopper insights study forCollective Bias™. #CBias #SocialFabric