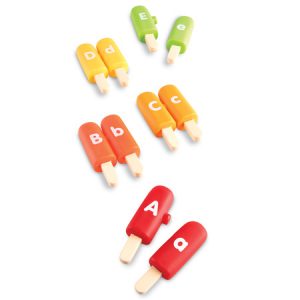 Smart Snacks® Alpha Pops™ from Learning Resources allow children to pop together a rainbow of frozen treats to match uppercase and lowercase letters. They are fun to play with and offer many benefits to children's development.   They are great for classrooms, homeschools or really, anyone!
Meant for ages 2-5, these pops are:
Double-sided to include all 26 letters
Self-checking by color
Also great for fine motor skills and imaginative play!
Single Alpha Pop™ measures 4″L x 1.25″W
Ages 2+
This is a "guest review" from my son's preschool teacher, Mrs. O, who is the teacher for the Peer Model preschool program at our town's elementary school.  She'll be doing a few other reviews for us so you'll get some feedback from special education teachers like Mrs. O as well as the school's Occupational Therapist who also works alongside Mrs. O.  My son loves being able to share mom's "blog packages" with his friends at school, and I love that we're able to pay things forward to our community through my blog.
The students are highly motivated by the Smart Snacks® Alpha Pops™ popsicles and enjoy doing this activity individually as well as in pairs. The pops are easily adaptable for students with various ability levels; students can simply match colors or work on matching upper with lowercase letters.
With more advanced students you can incorporate letter sound knowledge by playing an "I Spy" game for specific letter sounds. When left to explore the activity themselves, after matching the uppercase letter with the lowercase letter, several students proceeded to put the popsicles in ABC order.
Not only is the activity great for learning academic skills but it also incorporates motor skills such as bilateral coordination; our school OT loves this activity because student need to coordinate both hands to place the two sides of the popsicle together.
One of my readers will win a set of Smart Snacks® Alpha Pops™!  ($17.99 ARV)


a Rafflecopter giveaway

We received a sample of this product to facilitate this review.  Opinions are original.
0