Mars decided to give two of their biggest candy brands a new and fun size- bite sized!  The best part? They come out of the bag unwrapped.  It's the Snickers and Milky Way we all know and (most of us) love and they are cute little teeny tiny bites.  Mars Bites. And maybe now you don't have to share the bags because the candies are unwrapped and oh, I'm sorry, but I have had this cold and I'm sure you don't want to have one of these, you don't want to catch my cold… I kid, I kid (mostly). But really, when I was asked if I would tell you ABOUT the new bite sized, adorable versions of Snickers and Milky Way? I had to say yes. I felt it was my duty.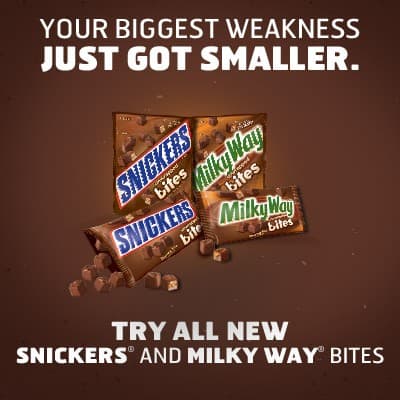 Don't Judge a Candy By Its Size
The candy you love is now easier to enjoy during your crazy, on-the-go lifestyle! Available at Walmart, SNICKERS® Bites and MILKY WAY® Bites are unwrapped bite sized portions of your favorite candy bars and are the perfect snack to satisfy your hunger and get you back to feeling like yourself in no time!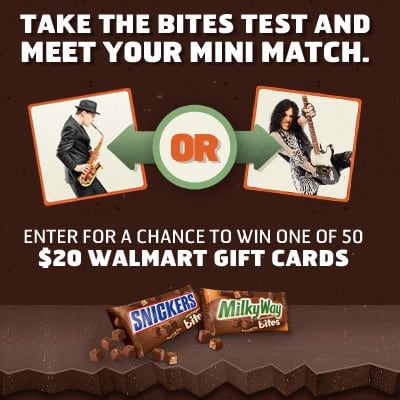 Take The Bites Personality Test!
Are you smooth or just a little nutty? Take the Bites personality test  and find out if you're more SNICKERS® or MILKY WAY®! Not only will your Bites mini match be revealed, you'll also be entered for a chance to win $20, $50, $200 or $1000 in Wal-Mart Gift Cards!
Week 1 (May 6th-May 12th): Twenty winners with be selected to each receive one $50 Wal-Mart gift card.
Week 2 (May 13-May 19th): Ten winners will be selected to each receive one $200 Wal-Mart gift card.
Week 3 (May 20th-26th): Fifty winners will be selected to receive one $20 Wal-Mart gift card.
Week 4 (May 27th-June 2nd): One winner will receive one $1000 Wal-Mart gift card.
Entries do not roll over from week to week, so be sure to head back to see.walmart.com/bites every week for more chances to win!
Share the laughs!
With the super satisfying eCard creator, you can create a Bites themed e-card to share with your friends and family! Visitsee.walmart.com/bites and share the laughs on Facebook, Twitter and Pinterest!
So, are you a SNICKERS or a MILKY WAY?  Take the quiz to find out…AND enter to win one of three $50 Walmart Gift Cards!  I'm 60%….Milky Way.  I'm shocked. I thought for sure I'd be all Snickers.  Who knew? 
Disclaimer: This post is sponsored by Lunchbox. All opinions are my own.